Cooking has always been my passion. From a roomy kitchen in our house to a tiny kitchen in our RV, I refused to give up creating delicious meals.
I loved trying new recipes. Cooking a nice dinner was more appealing to me than baking a fancy torte. RV cooking does not mean you are limited to camp food like hotdogs and hamburgers. Don't get me wrong, we like a crispy fire roasted hotdog, but we love a delicious meal more!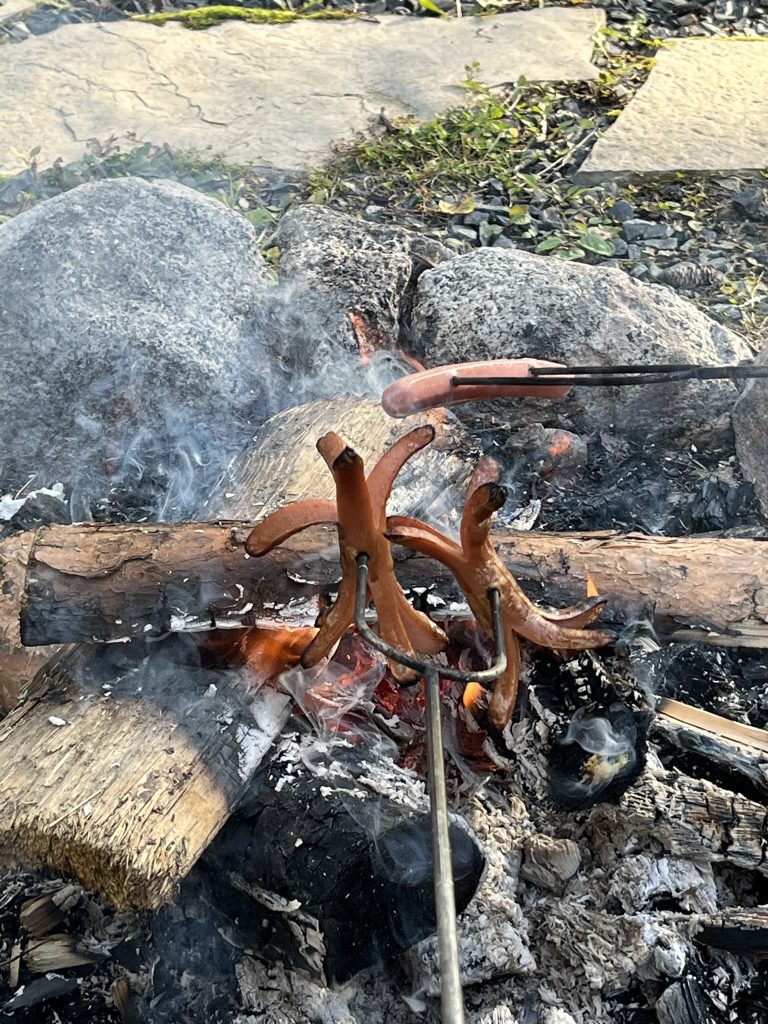 Let me show you how to explore the challenges, tools, safety tips, while still creating mouthwatering recipes that make RV cooking an adventure.
Embrace the limited space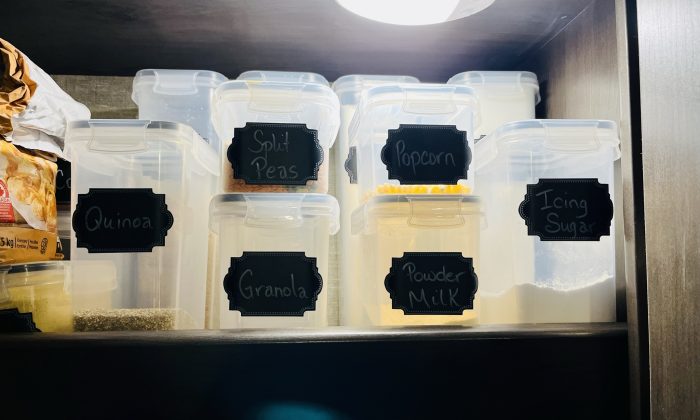 One of the biggest challenges of cooking in an RV is dealing with limited space. This can be limited counter space or storage space. But this doesn't have to stop you from cooking what you want. It just means you have to plan wisely.
We have learned by using vertical storage solutions, like shelves or containers makes organization much easier. Investing in stackable bowls or collapsible cookware maximizes your RV kitchen space. Having multi-use appliances and cookware takes up less of your precious storage.
When we started looking at RV floor plans, an island with prep space was a must have. I think most RVs come with the kitchen sink covers. Which it easily adds more counter space when cooking. Would you believe we have made perogies, gnocchi and homemade focaccia bread in here? Those covers came in handy for that.
What about all your cookbooks? Or all the recipes you saved over the years? I had quite a few. Some went way back almost 40 years when we got married. I even had index cards in a small wooden box. They were handwritten by family and friends who came to my wedding shower. To be totally honest, I hardly ever took the box out anymore.
Out of all my cookbooks, I used two. Yet I had around 20! The ones I used most were from work. A compilation of tried-and-true recipes that fellow nurses and doctors shared.
To downsize all those recipes I had written or photocopied over the years….I scanned and put them in a recipe folder on my iPad. Takes up way less space and I can prop it up when cooking. Best part, I can zoom in on it if the print is too small. lol
Essential RV-Friendly Tools and Appliances
Discover our list of tools and appliances we have for our RV kitchen. Check out our blog of things we started with here https://emptynestrvlife.com/ohhh-the-adventures/.
When you are living in a house, it's easy to want all the newest gadgets and appliances. In an RV, choose wisely. Too many things, takes up valuable cupboard space or essential counter space. It gets old very quickly, if you are always needing to move the blender off the counter to prepare meals!
When we were downsizing, it was a matter of, will we use it? Is it essential? And do we have room for it?
We narrowed it down to a set of good quality pots, and cooking utensils. As far as appliances, we have a Ninja Blender (yet it seems to be used mostly for margaritas).
Our Instant Pot is so versatile. It is one pot yet can slow cook, pressure cook or sauté. Yes, its big. But it fits nicely in our outdoor kitchen when not in use.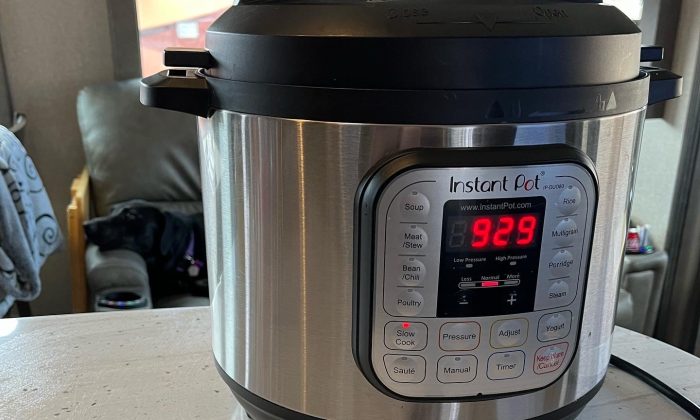 We are new to the Instant Pot Air Fryer, and we absolutely love it. Cooks literally anything. From crispy chicken thighs to nachos or homemade biscuits. It does take up counter space. We are looking at building a custom shelf for the end of the island. This would be for the toaster and instant pot air fryer. Which means freeing up that counter space.
I do not have a fancy Kitchen Aid mixer. Only an ordinary hand mixer. Takes up way less space. I also have a Pampered Chef Rice Cooker and steamer. All of which fit into the cupboards.
Plan Your Meals and Ingredients
Living small was an adjustment. Cooking in a small space is also an adjustment. Gone are the days of having 4 cans of coffee, 2 jars of peanut butter or anything extra in the pantry. There just isn't room for it in the RV. And we are never that far from a grocery store just in case we need something.
I have always meal planned and that has not changed since going full time. It's easier for storing perishables and pantry items, if you know what you need for a week or two. There is less waste because you use it up before restocking.
Tips for Cooking Safety on the Road
Cooking with propane can be a new experience for many RVers. It was new to me, and I am still getting used to it.
Here are my safety tips for cooking in the RV:
Propane heats up cookware fast. You don't need to warm up your pan long.
Make sure there isn't anything close to the burner that could burn.
I always put up the blind. Especially if I am using the oven as it gets very hot at the vent.
Never leave food unattended. Even for a second.
Have a fire extinguisher close by.
Remember to turn off the burner when you are done.
Simple and Delicious RV Recipes
Cooking in an RV can give you a unique opportunity to enjoy delicious meals while exploring the freedom of full time RV life. Embrace challenges with practical tips, and turn your tiny kitchen into a chance to be your inner chef.
Rob would agree that I have come a long way in my cooking. As newlyweds I tried to make a banana cream pie. My Gramps made it all the time and it looked super easy! Not for me. The crust was hard (yes, I made it from scratch), and the filling was runny. Never tried again. Although these days, I will only buy the ready-made crusts. I admit I am not a baker. I would much rather cook a delicious meal then bake a cake!
I will be sharing my recipes here for you to enjoy. Feel free to print them off. Let me know what you think.
Our Lessons
Embrace the challenges, make the most of limited space, and give yourself time to adjust. From downsizing your kitchenware to planning meals, you have the ingredients for a successful RV cooking. Hope you enjoy our recipes and embark on cooking adventures on the road. Happy cooking and happy travels!