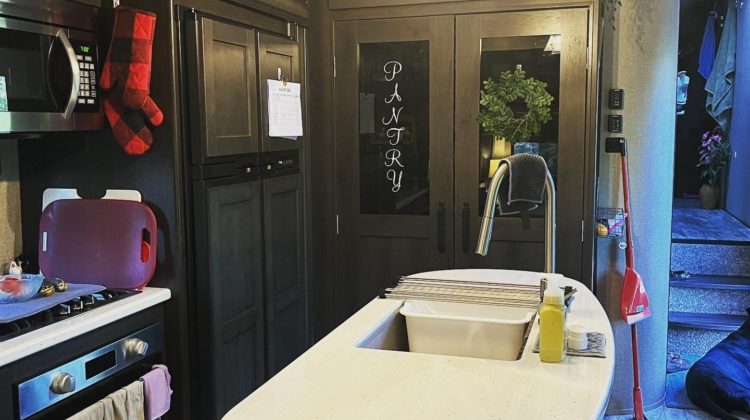 (These are not affiliate links).
Just a list of things we feel were important to have. I have listed brands and were we purchased them.
Some things came from the house. Some things are old keepsakes. Some are items that other RVers recommended.
Things from the house
Insta Pot – Amazon
Ninja blender – Canadian Tire
Outdoor dog bed – Amazon
Cutlery – kept 8 pieces of each utensil
Corelle dishes – 2 each dinner plate, side plate and bowls for microwave use
Vacuum – small upright from our old RV. Canadian Tire – Bissell
Pots – Lagostina – Sears
Other miscellaneous bowls, strainer, baking stuff
Small lamps – from our bedroom. Now in the living room
Fry pans – 2
Cast Iron pan – Pampered chef
Miscellaneous tray and storage bins
Bedding – our room and for sofa beds
New items
Small appliances – coffee pot, toaster, kettle – boys took the ones from the house.
Portable compressor – Home Hardware -important for topping up your tires in your travels.
Generator – Furman 2100i – Home Hardware – for those over night stops in parking lots. Or if our power goes out somewhere.
Air Fryer – Insta Vortex – Canadian Tire
Water sensors – pack of 6 – Amazon – so important at water source in case of a leak. They have saved us once already.
Cutlery tray – Joseph – Amazon – organizes and a space saver.
Melamine dish set for 4 – Amazon
Vacuum pack storage bags – Amazon – perfect for pillow, bedding, seasonal clothes.
Command strips – LOTS! – Amazon – cuz you do not want to put holes in the RV walls.
Kitchen garbage can – under sink – Amazon – used command strips for this too!
Hanging netted bags – Ikea – for onions and bananas.
Water bottle pump – usb – Amazon – we use this on our 5 gallon water bottle.
Area rug – living room – Ikea
Washer – Panda – Amazon – love this washer!
Indoor clothesline – Gorilla – Amazon – haven't figured how to hang it yet.
Tension rod – for the shower – Walmart – for miscellaneous things, clothes, face cloth.
Pressure regulator – Canadian tire – because you never know how much pressure parks are set at. Did not have one and had our first leak.
Water filter – Canadian tire – because water has all kinds of stuff in it.
Softener – Arizona – our water is hard.
Broom hanger – Amazon – gotta store stuff.
Outdoor rugs – marketplace
Solar lights – Canadian tire
Cargo Carrier – hitch mount on the RV
Bike rack – Amazon
Laundry rack – Amazon – for outside when we are away.
Like I said, these are items we felt we needed. I am sure there will be other things we will need but this is the bulk of it.
We just said the other day, if we were moving into another home, this list would have been much smaller.
When you completely change how you are going to live, of course you will need different stuff.
Plus, this year we changed where we had the RV parked. Our lot has a small cabin on it. Which gives us so much added space for storage, sleeping, cooking and entertaining.
Of course, I am thinking of all the stuff I got rid of because we did not have the space for it. Oh well, you just never know when situations and needs change.
The cabin is not heated for the winter, so we can only keep certain things in there. But guess what, I sure wish I had that extra fridge we had at home now. Next summer we will be looking for a used one. lol
Our Lessons – follow other RVers for ideas. You may see something you never considered. Keep things if you are unsure ( as long as you have room). Even when you have the room, it adds weight to the RV. Yes, there is a maximum weight for safe towing.