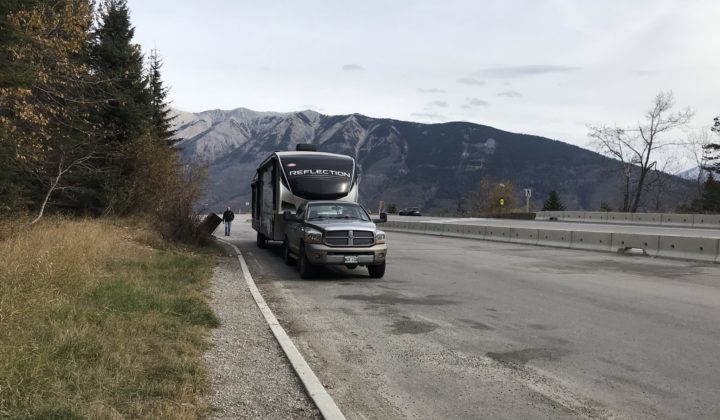 Manitoba Canada to Parksville Vancouver Island BC Canada
---
This will be the first in a series of reviews of the places we have stayed. I will include ALL stays. RV parks, campgrounds, Harvest Hosts, Casinos, you name it!
When we left Manitoba, our plan was to have service work done in Virden MB the first travel day, Then stay in Maple Creek SK. However, we had truck issues and ended up driving from Virden MB straight through to Calgary AB. There was a part that we needed there.
Long story shortened; we could not shut the truck off because it may not start again. So, we drove….I shouldn't say we, because it is Rob who does all the driving.
Took us 14 hours!! Not something we would recommend at all. Our limit now is about 5 hours.
We arrived at the Walmart in Strathmore, AB at 5 am. We took a couple of hours sleep and then crossed our fingers that the truck would start. There was a Dodge dealership across the street if we needed. But…it started and we were on our way!
Cochrane, Alberta Canada
Bow Rivers Edge Campground 900 Griffin Rd E. Cochrane, AB. (403) 932-4675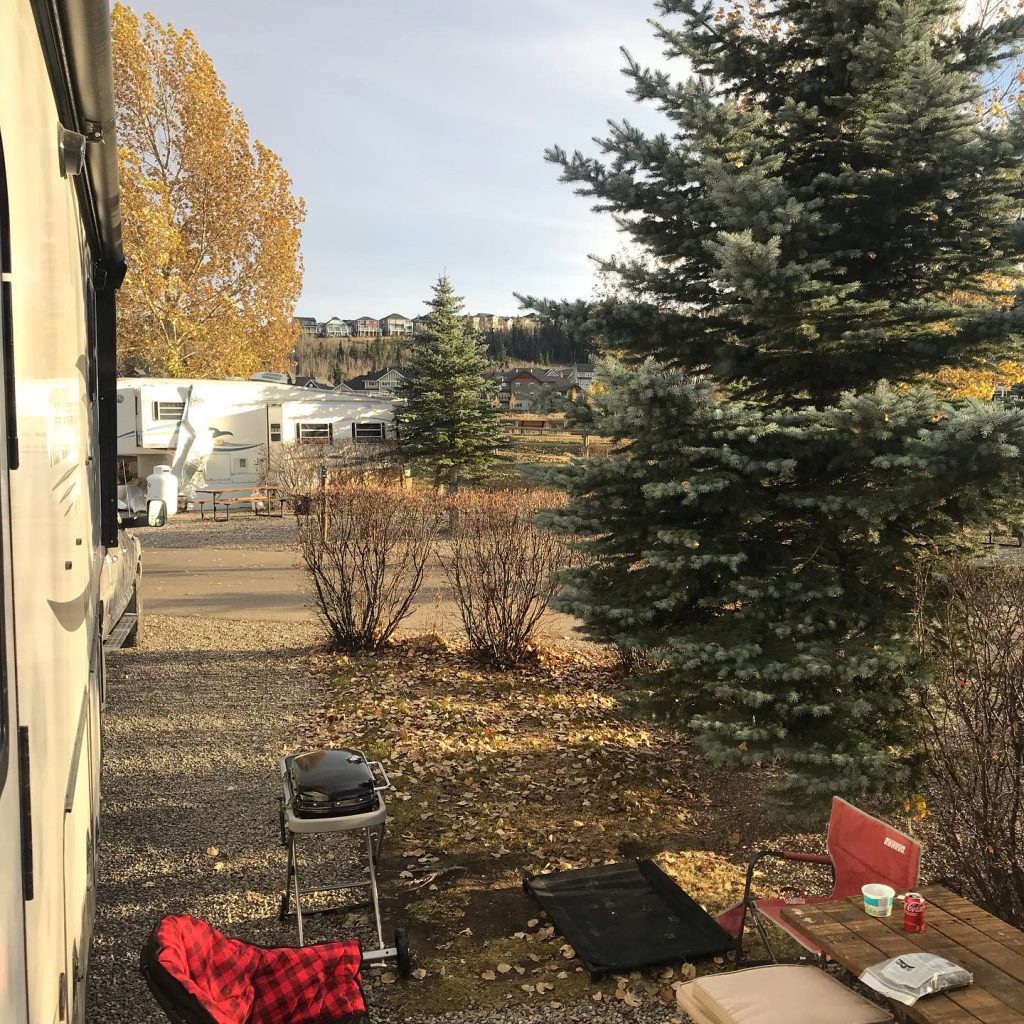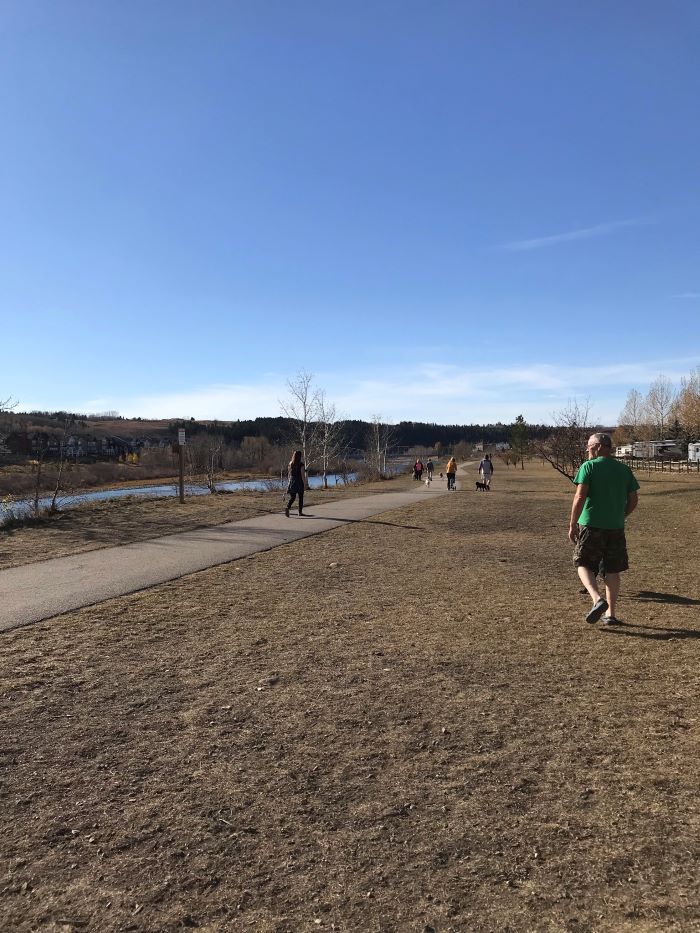 $52 per night. Full service, pull through site.
We made the mistake of following google maps, that took us through a residential area that included two small roundabouts! Later we found that we could have come in through Griffin Road W.
Entrance to the park is big and we did not have any problems. The staff was friendly. Our site was level, easy to pull into, had a picnic table, fire pit and grassed area. All clean. There was laundry, bathroom and show facilities, however we did not use them.
Although there are nice hedges between sites, this made it impossible for us to pull out to leave. We could not make the turn as the road was not wide enough for us to clear the hedges on our backend. We ended up backing out, which was way easier!
The Bow River runs along the south side of the park. Nice trails and an off-leash dog park. The town of Cochrane has everything you could need. Even a Dodge dealership which replaced our truck computer.
---
Salmon Arm, British Columbia Canada
DeMille's Farm Market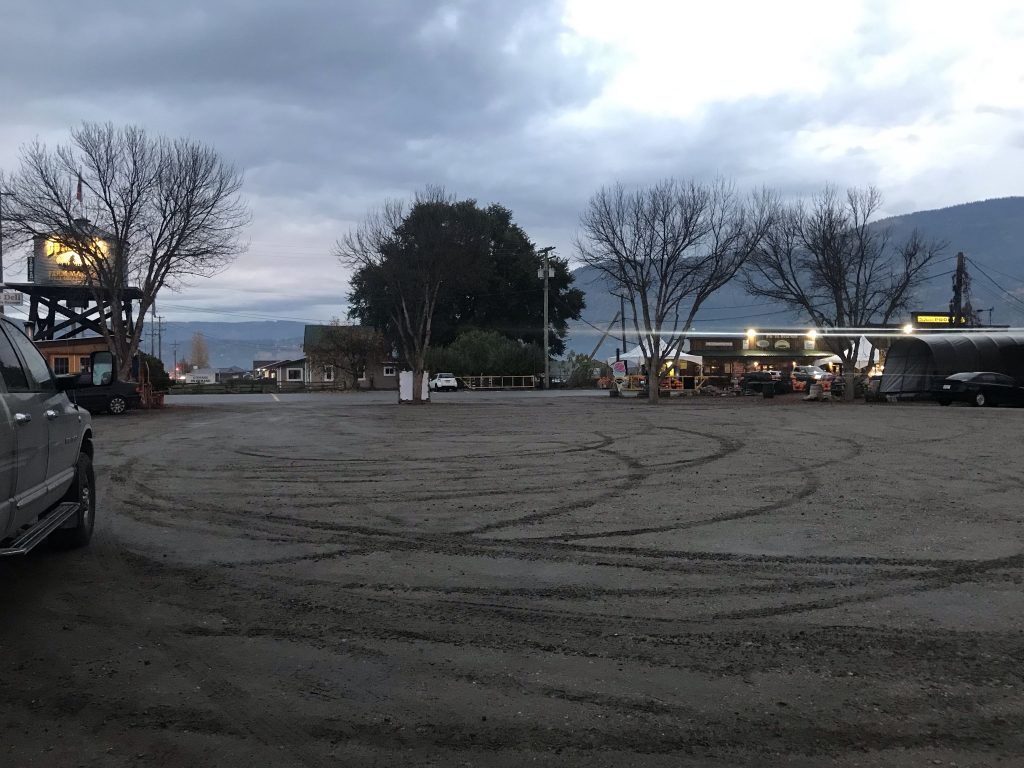 This was our first Harvest Hosts stay. If you do not have a membership, we would totally recommend one. There are thousands of unique places to stay. When staying at a Harvest Host, the idea is to have a spot to park for free, in return, support the business by making a purchase or a donation.
RV parking was in the large lot in front. You need to go inside and let them know you are there and they will tell you exactly where to park. A lot depends on whether they are expecting other RV's or not.
After we set up, we went inside the market and bought some BC pears and their home made sausage. Delicious!
There were other shops on the property, but they were closed for the season. I was a little disappointed with that. The next morning, we went inside for coffee and a muffin (which was supposed to be complimentary) and we were charged.
Overall, we probably would not return. The lot fills up quickly in the morning, so you need to head out early to ensure you get out! Staff inside the market were not very friendly. The lot was muddy and uneven.
---
Hope British Columbia Canada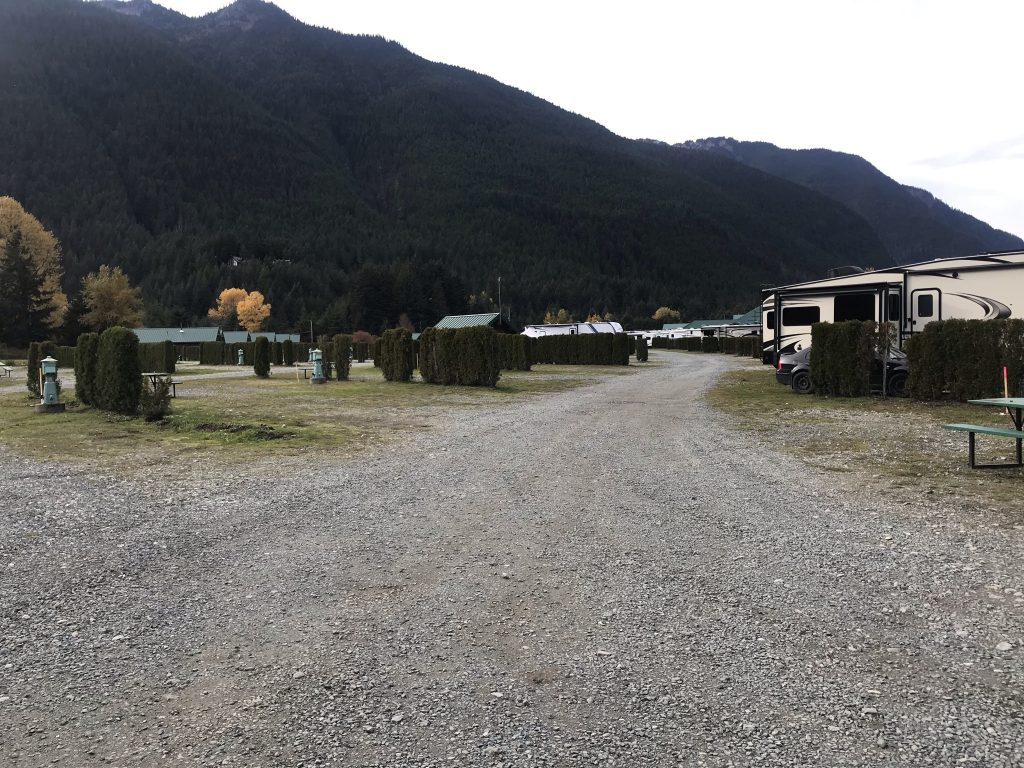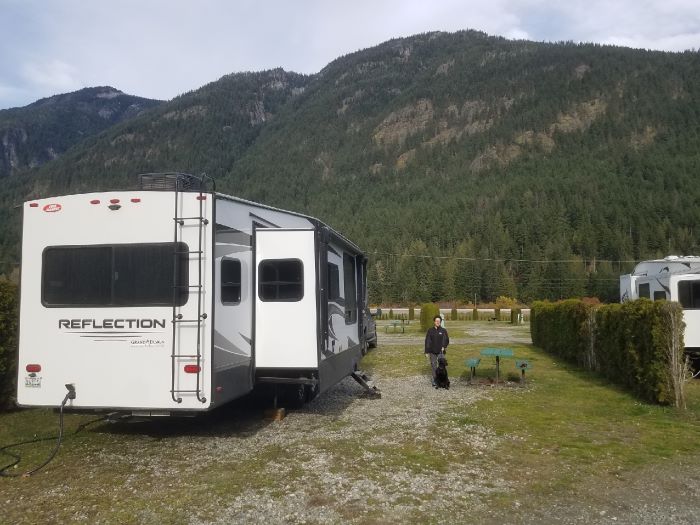 We were travelling south down the Coquihalla to Hope, British Columbia. The Sunshine Valley RV Resort is 21 km from Hope. This resort is beautiful.
Full service pull through site is $49 per night and $3 per day for a pet.
Easy navigation to the Resort. Staff was friendly. Site was clean. Trees and hedges divided the sites. But they did not hinder us pulling in or out. There was a fire pit and picnic table at each site.
There was a pool and hot tub, however we did not have enough time to make use of them. Propane is also available here. Wi-Fi was only available close to the office. The town of Hope has the usual amenities, groceries, fuel, and restaurants.
There is a trail that goes down to a creek. It was getting dark when we arrived and there were warnings of cougar sightings, so we did not take that walk.
The next morning, we were booked on the Tsawwassen Ferry, which is a two hour drive from the Sunshine Valley RV Resort. Just to be safe, I gave us 3 hours to get there. That way we could let Lucy out and if there was traffic, we would still be there on time.
Which was a good thing, because we took an exit into a shopping mall close to the ferry entrance. Thinking this would be a suitable place to take her for a walk. But for some reason, I forget, when navigating google maps and seeing these big open lots, they are usually empty. We arrived there in the morning, when all the stores were open. We made the exit from the lot, then missed the exit to the highway and ended up going into a small suburb. Lots of low hanging trees to stress me out!
But we got back on the highway and to the ferry in time. Never a dull moment! The ferry to Nanaimo was 2 ½ hours. This was our first ferry ride and we decided to take Lucy with us to the pet area. In hindsight, it was too much stimulation for her and she was stressed. We had the option of leaving her in the truck and we should have.
---
Parksville Vancouver Island British Columbia Canada
Riverbend RV Resort 924 Island Hwy E, Parksville, BC (250) 248-3134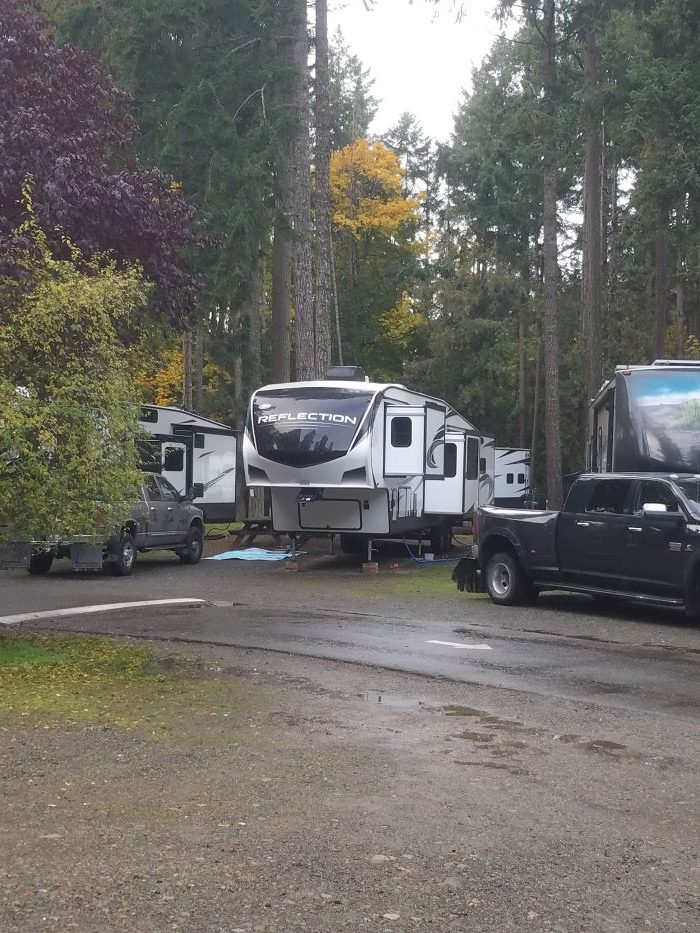 The Tsawwassen Ferry arrived at Nanaimo and we made the short drive to Parksville. The traffic was steady the whole way.
We were in awe of how huge the trees were and how beautiful and green everything still was for the end of October. Riverbend would be our home for the winter. The snowbird rate was $25 per day plus electric.
Coming into the park off Highway 19A was easy. Once you follow the main road into the office, it is pretty narrow with tight corners with all the big trees.
Staff was friendly, but very unorganized. I ended up going in several times to get my bill straightened out.
Our site was a back in site. We are forty feet long with four slides. The sites are tight. There are several large trees between sites. Our four slides fit like a puzzle between those big trees. There is room for one vehicle and that leaves little room for your neighbour to get into his hatches.
Each site has a picnic table and fire pit. For our time there, it was too wet to have any fires. There is a small laundromat that really needs an update with the number of people in this resort. There is a main lodge/office. It has a big tv in there but otherwise it is a cluttered with random things.
The Englishman River runs along the park, and it is a nice walk down to the water. There was significant flooding with the constant rain while we were there. It never came close to us, but the park across the river was evacuated because a lot of the sites were under water.
If you have never been to Vancouver Island, there are endless trails, waterfalls and quaint towns to visit. The weather was nice till mid December. So, we took in as many sites as we could when it was not raining. BECAUSE it rains a lot! When you go out for the day, go prepared with a sweater, jacket, boot, hat, mitts, and an umbrella. There were many times the weather would feel warm with a light jacket, then you walk into the forest of huge trees and the temperature drops a few degrees.
Parksville is five minutes away. It has everything you need. Prices are higher than what we are used to, so we did shop at Costco when ever we could. The closest one being in Nanaimo BC.
In the end, we had enough of the dreary weather and decided to head down the west coast to Arizona in search of sunshine. The US border opened November 8th and we headed out January 4th. Only because Rob needed to renew his passport. Otherwise, we would have left November 8th.
This will be the end of Part 1 of our RV and Campground reviews. Stay tuned as we review our stays down the west coast.