Vancouver Island BC Canada to Yuma Arizona USA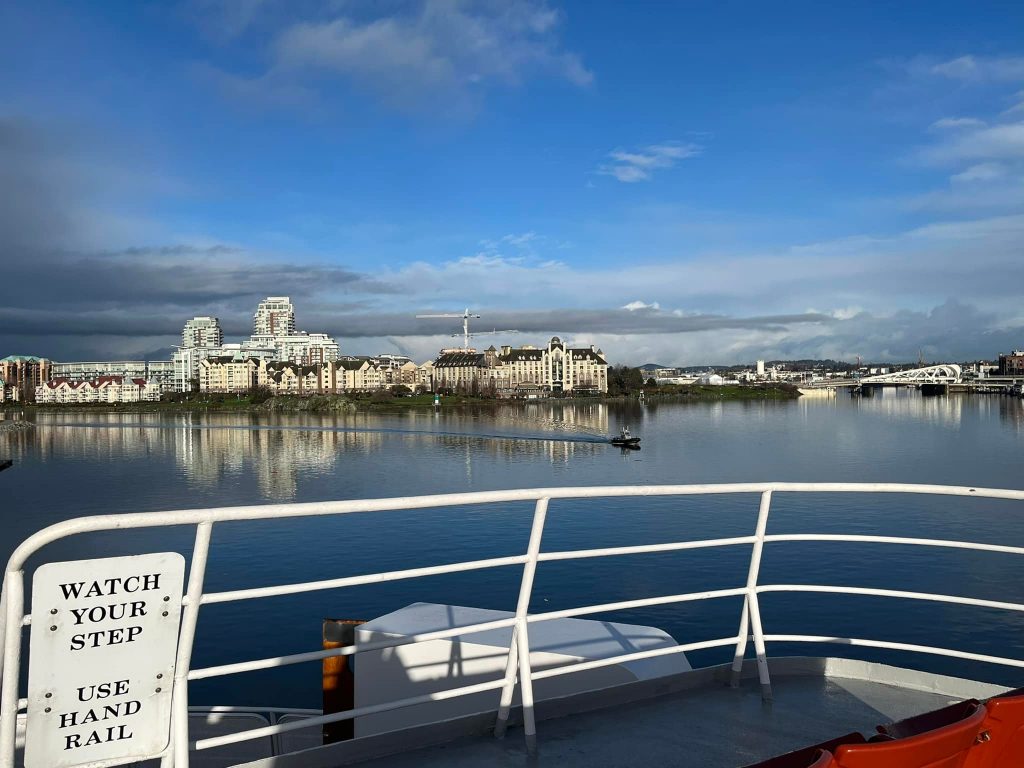 We left Parksville BC early in the morning and headed south to Victoria. There we boarded the Black Ball ferry.
That drive was the most stressful drive we have had so far. Well, that is not totally true. The drive down the Coquihalla is a close second.
Right after we left Riverbend RV Park had hit black ice. It is a good thing we left early so we could take our time, because we needed it. The drive in the valleys was fine and it was misting out. As soon as we gained any altitude, that mist turned the roads into a slippery drive.
We arrived in Victoria with lots of time to let Lucy out and check in for boarding. The Black Ball ferry crosses the USA border, so you have to check in with passports before boarding. This process was not difficult. Just know what you can and can not bring. If you are travelling with pets, make sure you have your rabies documentation with you.
The ferry ride was 1 ½ hours to Port Angeles, WA. We opted to let Lucy stay in our truck as the ride was short. This would be less stressful for her, then to be on deck with us and all the other people and dogs.
---
Port Angeles Washington USA
Walmart 3411 E Kolonels Way, Port Angeles WA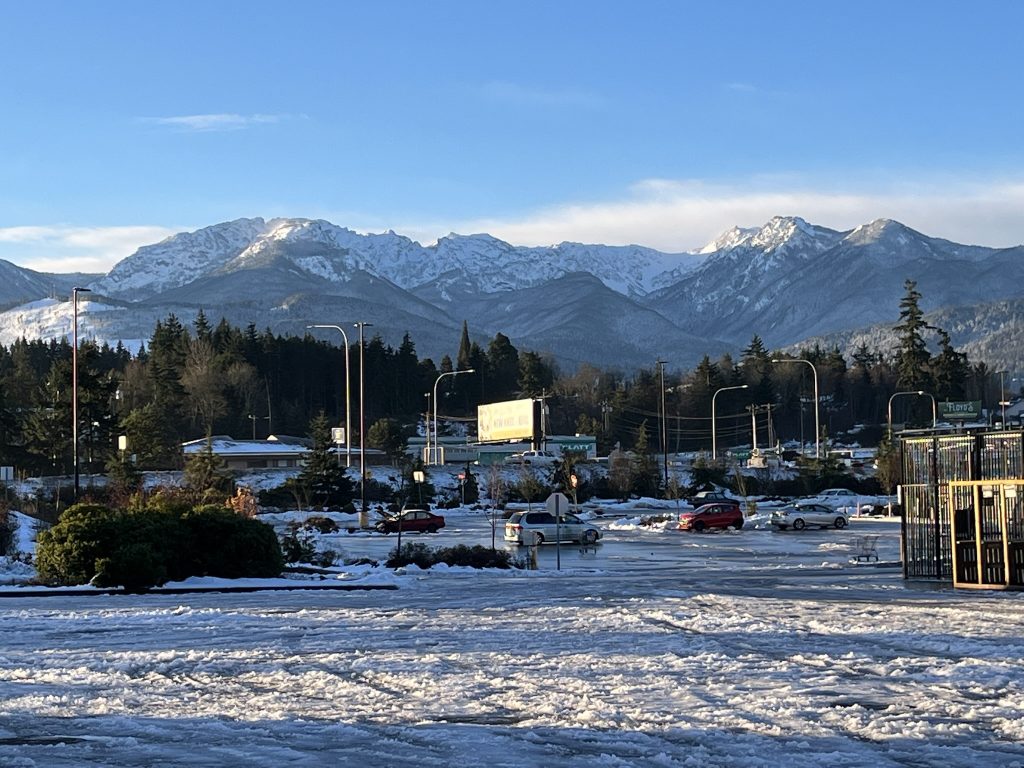 As we drove off the ferry, we needed to check through another border officer. He asked us a few questions about alcohol and where we were going. Took all of a minute and we were on the road to a local Walmart for the night. It was a very early morning, so we were ready to settle in early and relax.
As soon as we drove into the Walmart parking lot there was a burnt class C motorhome with its contents all over the end of the lot. There was also a car with the hood up and on a jack.
We parked and then went into shop. I did try to check-in at customer service, but the line up was ridiculous. The rest of the afternoon was sketchy, and we really should of left.
There were random cars were driving by us slowly and looking at our RV. There were also people stopping to see what was in the burnt motorhome.
We ate and early supper and went to bed. I woke up several hours later to a whole bunch of banging outside. When I looked, I could see a bunch of guys cutting parts off the car with the hood up. I really don't think that was their car.
We would not recommend staying at this Walmart at all. As soon as we got up in the morning, we left. Oh….and another motorhome had come in late and before he left, he threw his Christmas tree out in the lot and drove away!
---
Quinault Beach Resort and RV Park
78 WA-115, Ocean Shores, Washington USA 1-888-461-2214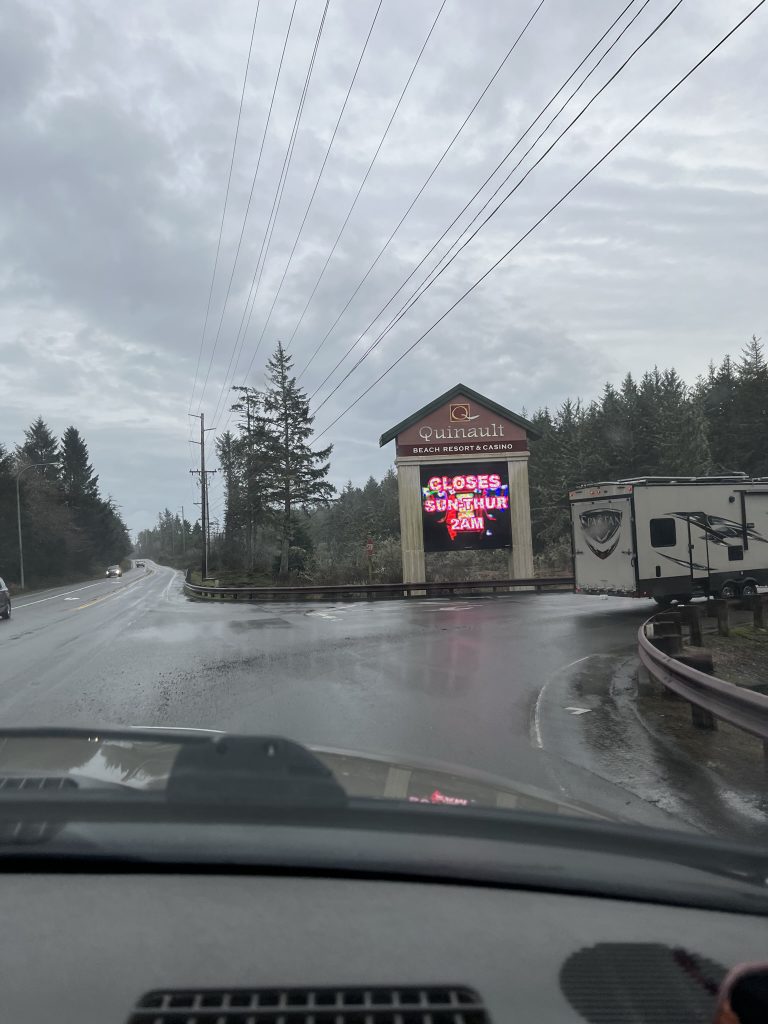 There are lots of RV sites at this casino. It is 30 mins west of highway 101. Check-in at Guest Services when you arrive. Cost is $10 for the site. There are no services.
The lot coming into the casino is big with easy navigation. Staff were very friendly when we went inside to register.
The RV sites are quite a way from the casino. On our way there, I did notice a sign with a phone number for their shuttle service. Once we set up, we decided to go for supper in the casino, so we called for a shuttle. Sadly, because it was January, it was their off season and no shuttle was available. So, we unhooked the RV and drove to the casino. Which I am glad we did! Our supper was delicious. We had no issues through the night. I did hear security drive by through the night and I think we were the only ones there.
---
Tillamook Oregon USA – Blue Heron French Cheese Creamery
2001 Blue Heron Rd A, Tillamook, OR (503) 842-8281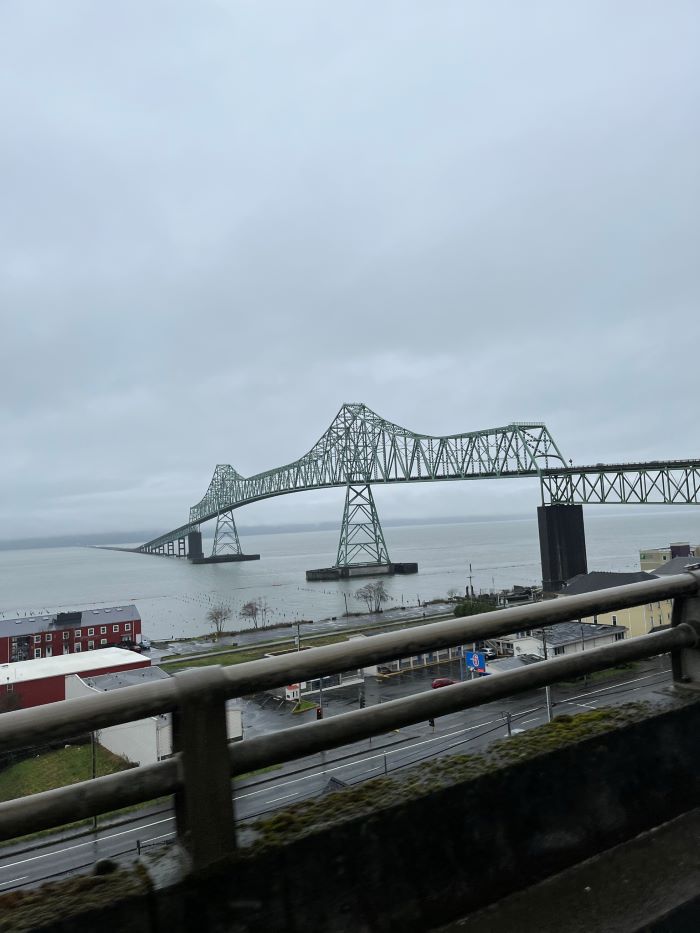 Not sure why, but we wanted to stay at the Tillamook Cheese Factory and ended up here. This is a Harvest Host location. We are members, but never booked as this was not where we had planned to stay. Luckily, they had no problems with us parking for the night as there was a storm coming in that night.
The lot is big and right off highway 101. Once we parked and set up, we went inside the store/restaurant. We did purchase some cheese. There is a candy store on the property too, but it was closed when we arrived. Your parking is free for Harvest Host members. As a member, it is customary to make a purchase at the business. There are no services here.
---
Gold Beach Oregon USA
Ireland's Ocean RV Park 29272 Ellensburg Ave, Gold Beach, OR (541)247-0148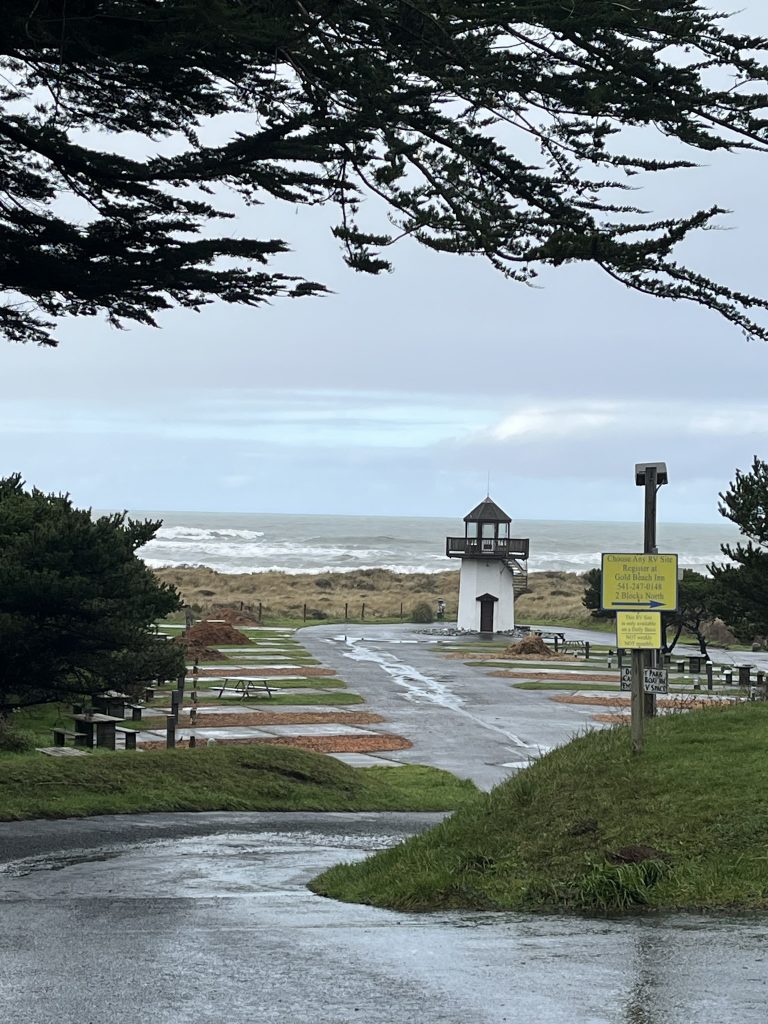 $40 per night for full service.
This place had kind of a weird setup. I called about 2 hours ahead of time to check if they had sites. We were in lucky, as they said they had a spot. The manager advised us to pull in when we arrived, then come to the Inn to register.
This place is not easy to find. There are so many businesses along the street, that we missed the entrance. We drove ahead just outside of town and turned around. Which, if you have ever towed a 40-foot trailer, it is not that easy to find a spot to turn around.
This time we did not miss the entrance. It was tight. Down a narrow roadway then a steep decline into the park.
Surprisingly, it was empty. Not a soul around. And it was small. It's a good thing there was no other RV's there because we would not have been able to get in.
There are approximately twenty-five sites. We took a pull through and we hung over the site . Not big rig friendly at all.
Once we hooked up and set things up, we went and checked in at the Inn down the street. The staff was friendly.
According to Google Maps, the park is right on the ocean. It is close but not that close. The night we stayed, there was a huge storm going through, so we parked into the wind and hoped for the best!
In the morning, we packed up. Planned to top up our fresh water. But there was no water. It was a trickle. There was a break somewhere and the park and hotel next door, so they shut the water off.
With a smaller trailer and nicer weather, this park would have been fine.
Gold Beach is a small town. There isn't a lot around and I gather it's much busier in the summer. But we did order pizza the evening we arrived from Sunset Family Pizza. It was delicious!
---
Patterson California USA
Kit Fox RV Park 240 Rogers Rd, Patterson, CA (209) 892-2638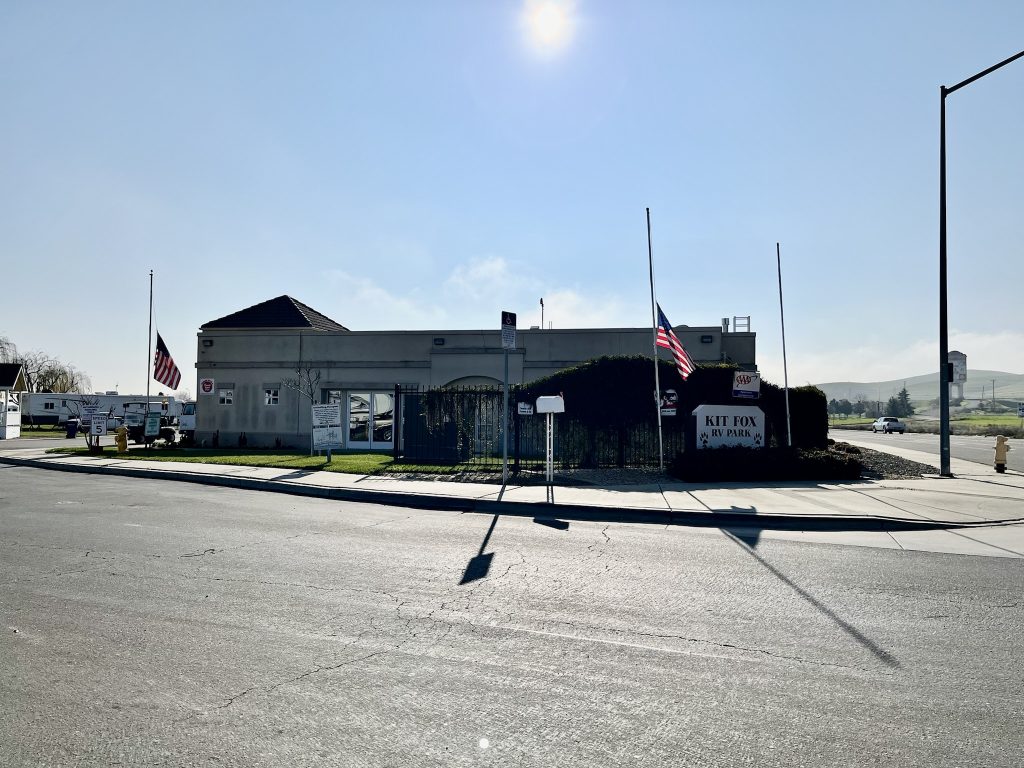 $50 per night for full service, pull through site.
This park is just off Interstate 5. The entrance is big and big rig friendly. Staff was friendly and gave us the discount for being there for the first time.
Good size pull through. Easy to get in and out. There is a dog park, but it is small. They do have laundry and shower facilities, but we did not use them. The RV Park has a path going out to a few restaurants and fuel.
We had a good quiet night sleep and left early in the morning.
---
Bakersfield California USA
Orange Grove RV Park & Resort 1452 S Edison Rd, Bakersfield, CA (661) 366-4662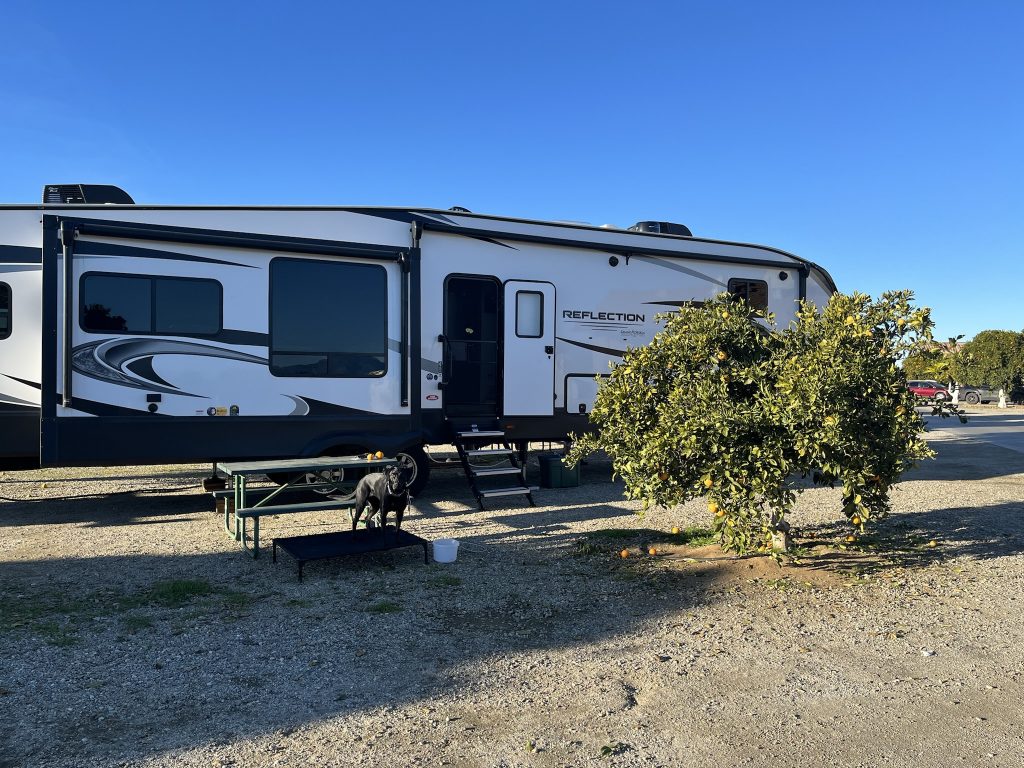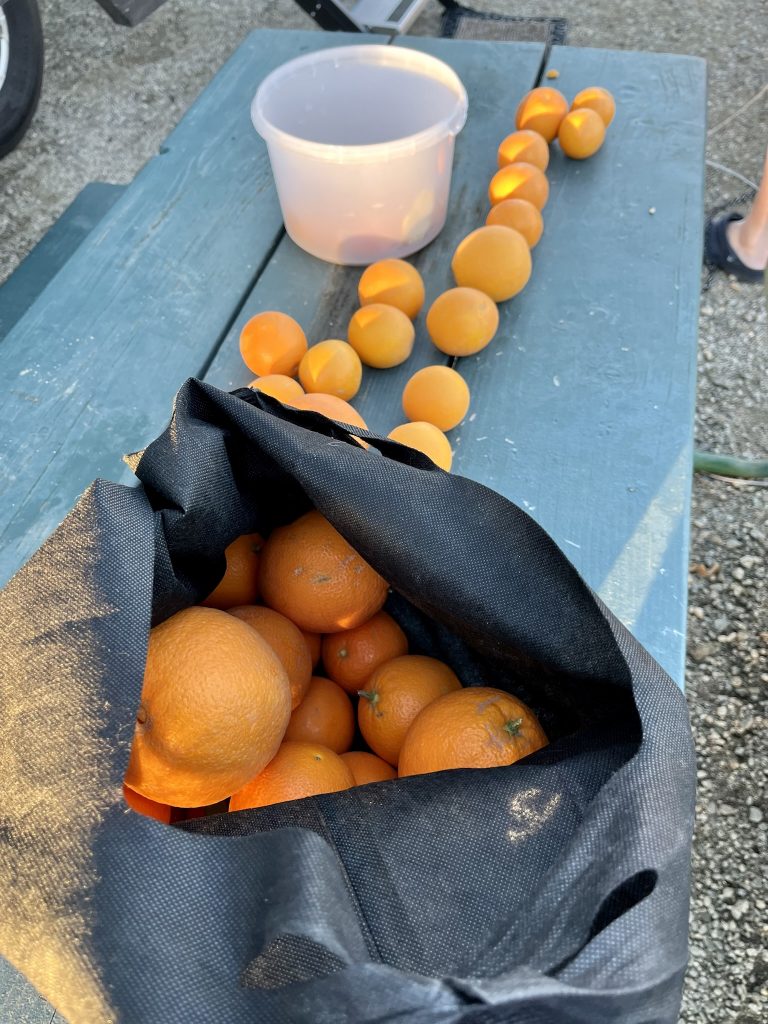 The rates vary depending on what size site you book. We paid $55 for a full service pull through site. The site was long enough to park the truck behind our RV. It was easy to navigate into the park and to our site.
The staff was friendly. Each site and all around the perimeter of the park, had orange trees full of ripe oranges. They give you bags and encourage you to pick what you want. We picked two full bags. They were super sweet, like candy!
We were having truck issues, so we never ventured outside the park. Only to get fuel before we left the next morning. Bakersfield is not far away and is a big city.
---
Winterhaven, CA USA
Quechan Casino 525 Algodones Rd, Winterhaven, CA (877)783-2426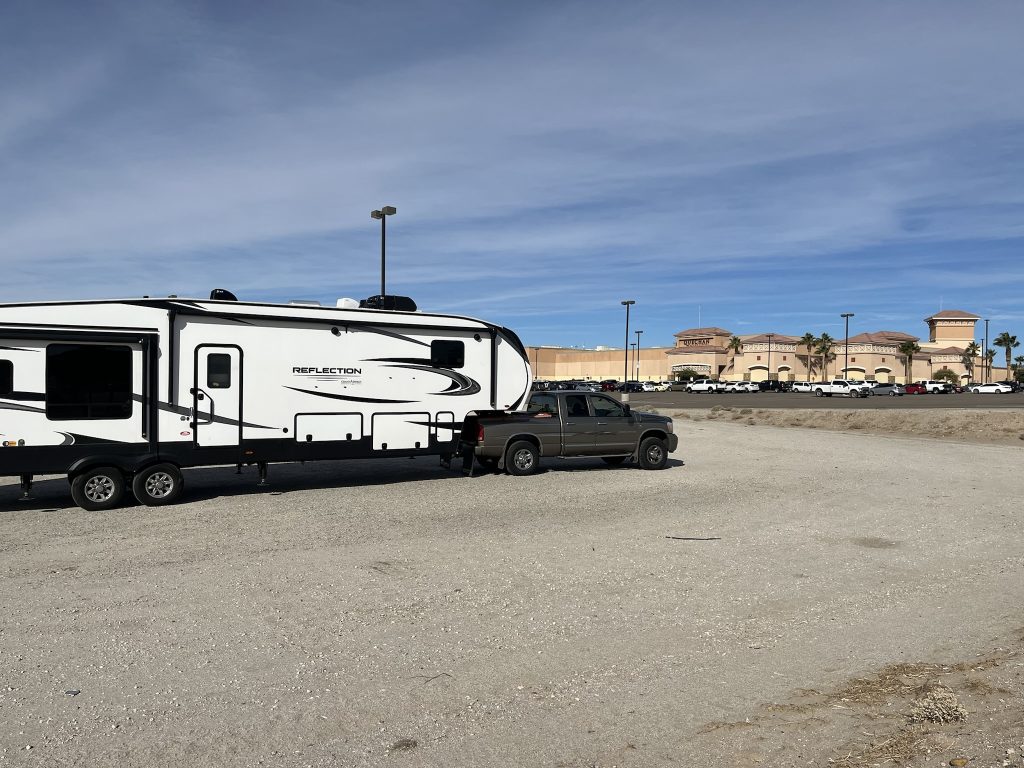 Cost is $10 per night. There are no services. You must go in and check in with customer service.
There were lots of RVs in the lot when we arrived. They also have a separate lot for semis. Which I thought was a good idea. It did not matter though, because one parked beside us for the night.
Security passed by through the night and the lot was well lit. Would stay there again. A lot of people stay there and go down to Los Algodones Mexico for dental work.
---
Yuma Arizona USA
Del Pueblo RV Resort 14794 S Avenue 3 E, Yuma, AZ (928) 341-2100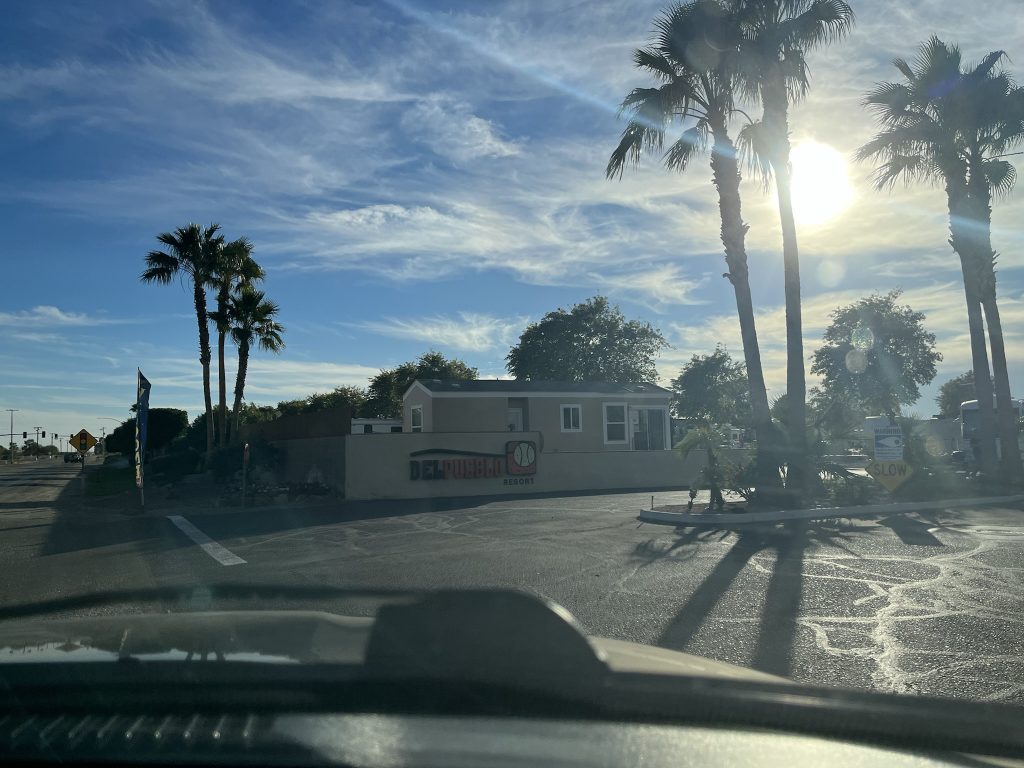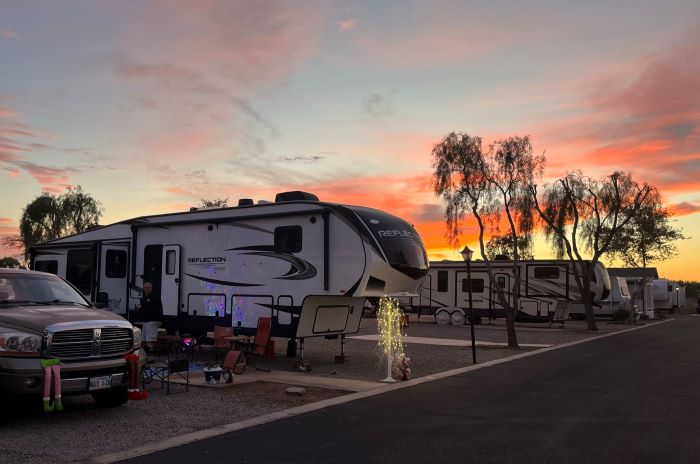 This is our home for the winter. We love it here. The prices vary depending on how long you book for. There are tons of amenities here. Two pools, hot tubs, laundry facilities, crafts, games, pickleball. The list goes on. You can be as busy as you want.
The park is on the outskirts of Yuma close to the Marine base. For some, some say it is noisy, but we enjoy watching them fly over. Major shopping and restaurants are 10-15 minutes away.
There have also been a lot of reviews on the sewage tanks and subsequent odor here. When the park was built 20 years ago, the tanks were at the end of the park. As the park has grown, the tanks are now close to the middle. Which I guess was not good planning.
It smells, yes! But whos' poop doesn't STINK. Lol.
Management is very good at having it dumped as often as needed to keep that smell down. Which also means, if it is getting pumped often, the lid is open up more often, thus opening up the odor.
Lastly, I can not say enough about the staff here, Super friendly. The park manager lives on site and is easily available if needed.
The people! The people are awesome. We have made some good friends here. Which is why we keep coming back.