How we prepared
I can not stress enough to start purging early. They say if you have not used something in 2 years, you probably do not need it. We went with that.
Three years prior to the move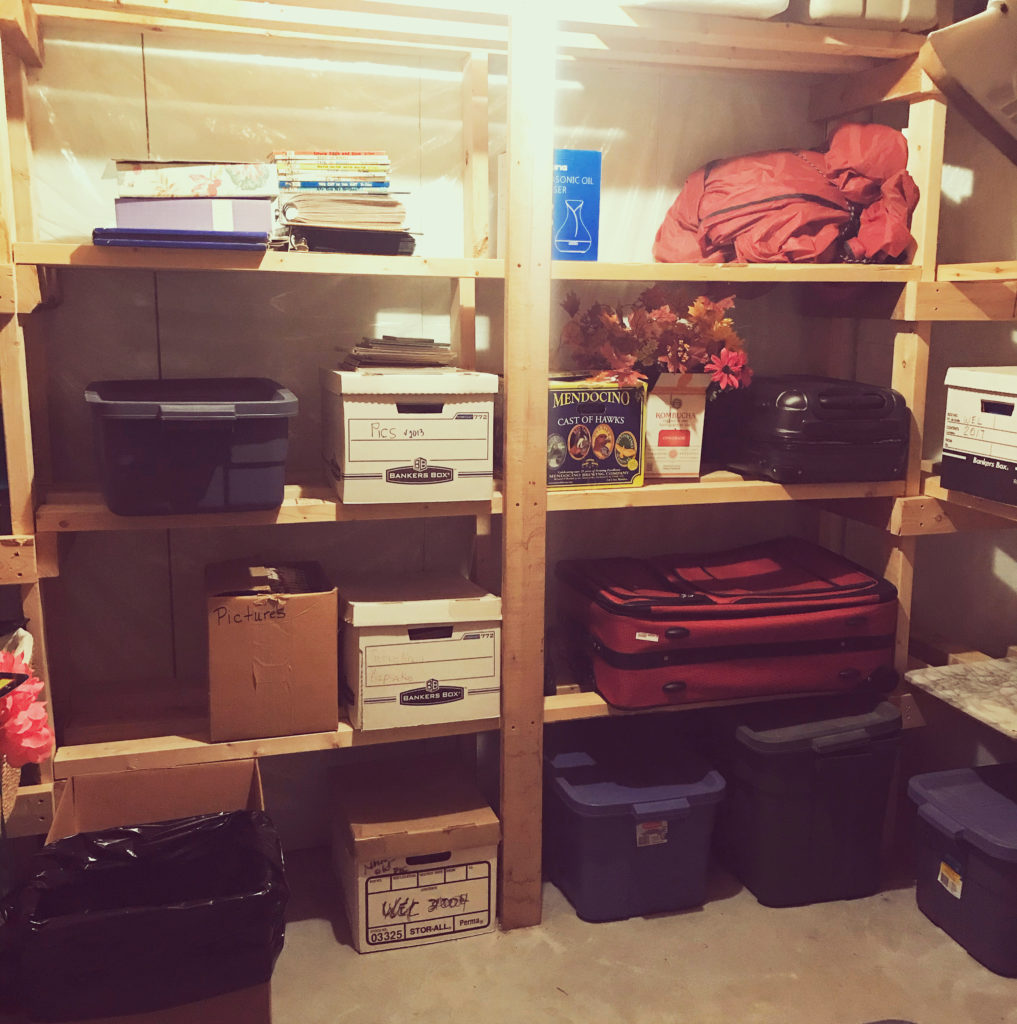 Since I was still working, I started collecting tons of boxes from work.
Things were sorted into 5 piles. FOR KIDS, DONATE, SELL, GARBAGE, KEEP for the RV.
We asked the kids to tell us if there was anything specific, they wanted. I kept track of those items.
Then I went to town packing boxes. They were labelled clearly.
As organized as I was – one box did go missing. It was either thrown out or donated. Our old satellite receiver and TV legs were in there. I am sure there was more but I have no clue what it was. Since I have not missed it, it is ok.
There were still things we needed to use until we moved. But a lot of it went into boxes in the basement and was stacked according to the piles. That just goes to show you, we had too much freakin STUFF!!
Parting with belongings
Rob has always called me a "pack rat". Yet through this move, it was not ME!
For me purging was freeing. The more I sorted, the more I was driven to do this. It was easier to part with something if I knew it was going to someone who needed it. Verses just throwing it away. Problem is, you can not take it all.
If you have ever watched Marie Kondo? She basically says to do the piles, like I mentioned above. But before you give away or throw away something, you thank that item for what it has provided for you. No, I did not do that. Otherwise, I would still be sorting stuff.
Photos
Photos, photos, and more photos. Probably over 10000! To save on space and not have to take all the albums with us, I removed the pictures from albums and put them in bins to sort after the move.
Great tip; when I did start scanning them, I used Photomye. Which is a paid app. I think it was $50 or so for the year. So I just made sure, I scanned them all within that year. (this is not an affiliate link, just my personal experience).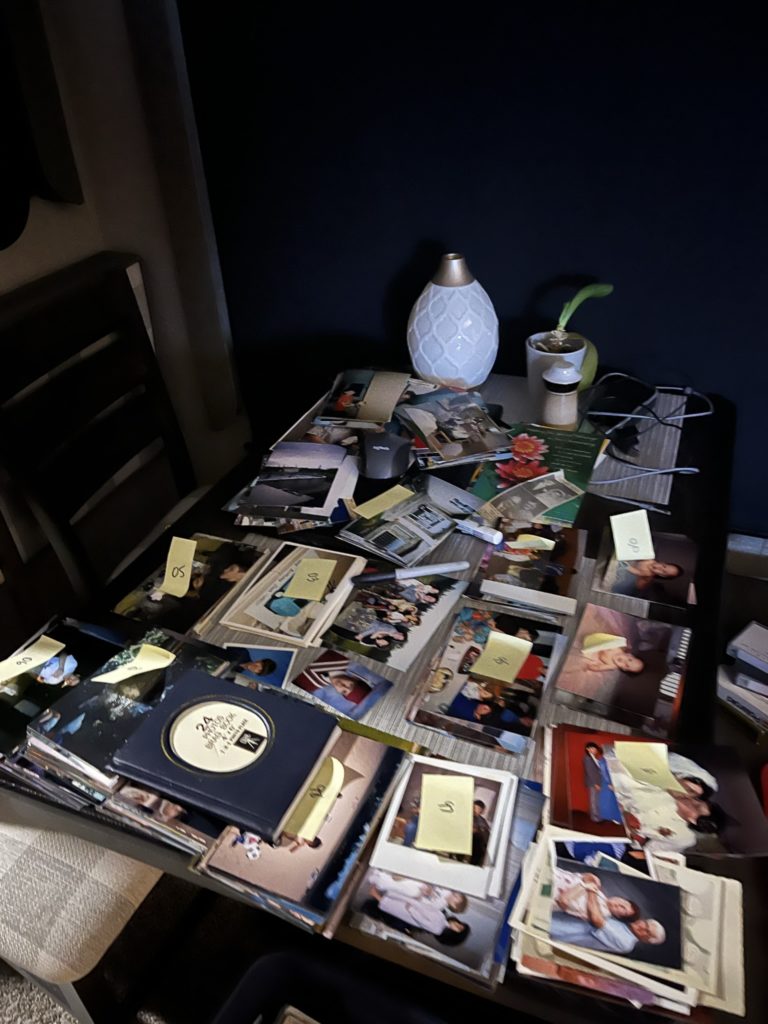 Minimalistic – Living Small
If I was unsure about something, it came with us. If we have not used it in the past year, then it gets donated. Yes, we have given away more stuff since RVing.
Why hang on to a pair of pants I have not worn in 3 years? Shoes are a different story though. You can never have enough of those. Right!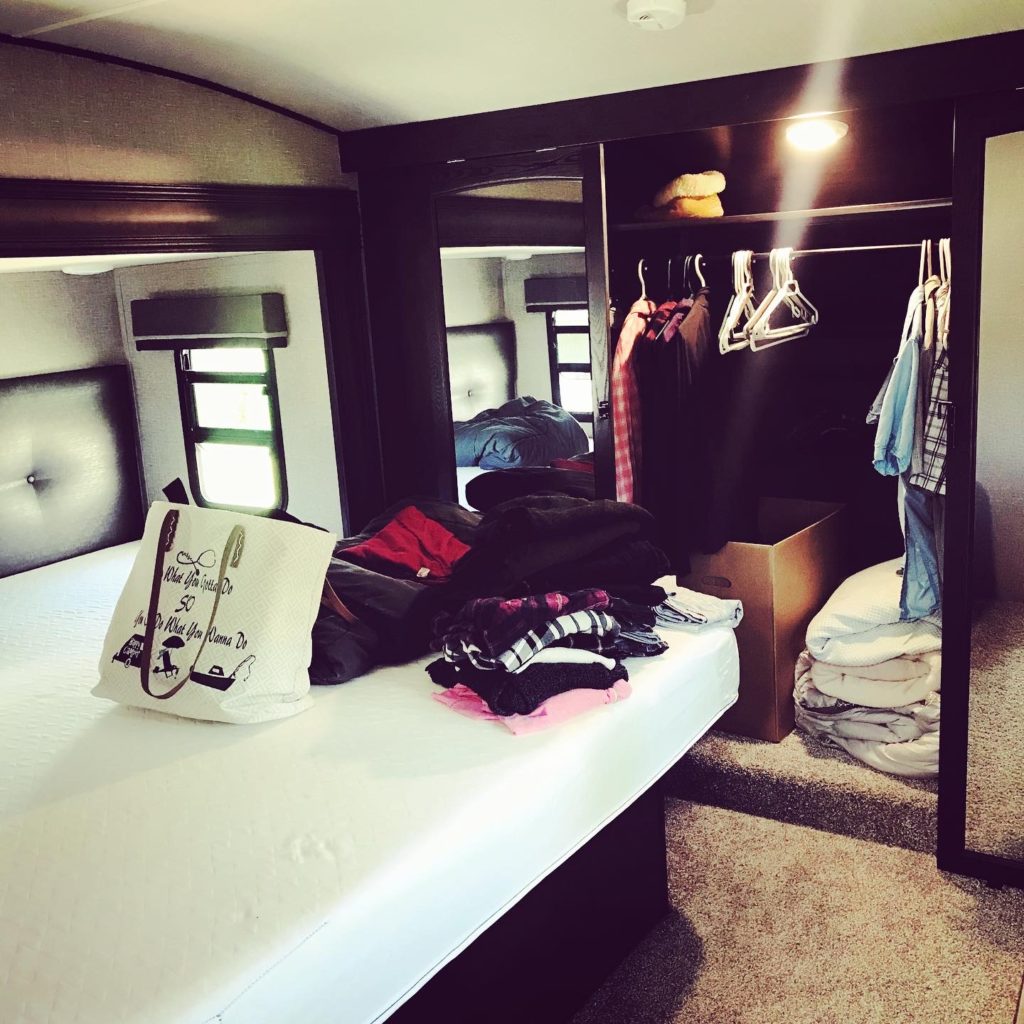 Thank goodness Grand Design has tons of storage. None of our cupboards or closets are jam packed with STUFF. It's organized just like you would at home.
Just because you have the room to jam pack the cupboards and closets, does not mean you should. There is still a weight limit for safe towing.
Organizing
Everyone is different in how they organized and what works. For us, if it does not work, then we change it. Which is probably why Rob can not keep it straight where things are kept. But I know EXACTLY were everything is!
Since I am an organizer at heart. Everything is stored in the room its needed. Which is easy for kitchen and bathroom stuff. But for things like my sewing machine, well that is in our closet. It can be tucked away because I do not use it everyday.
Your best friends are storage bins, trays, baskets, hanging baskets and command hooks. The dollar store has all kinds, and they are not expensive.
Bins and baskets keep items on shelf organized. It also keeps them put for travel.
We did not keep a ton of each item. I do not know about you, but in our house, we had way too many dishes, cutlery, and glasses. But you needed lots when you had a dishwasher or for entertaining.
Since we have moved into the RV, we have a certain amount of glassware, plates, utensils, and bowls.  It is only us. I do not have a dishwasher and I wash dishes once a day. If we entertain, then we use paper plates anyway!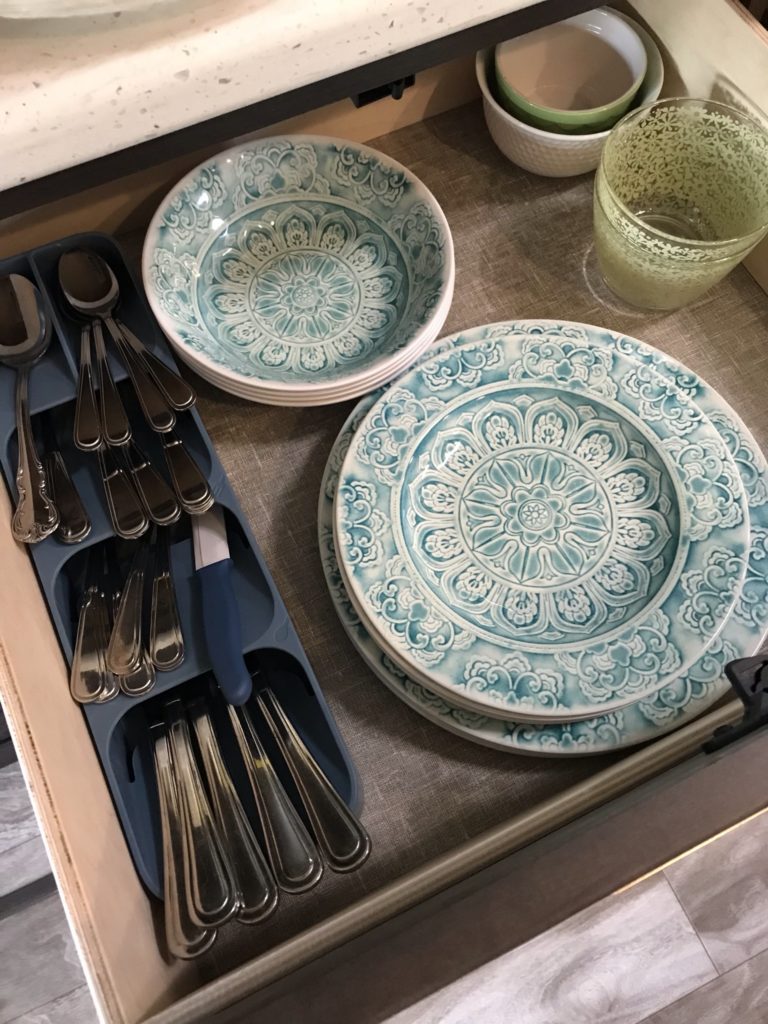 Since we have 3 beds, we keep enough bedding for each bed.
Some areas I struggle with like under the sinks. I just can not decide what to store under there. It is a work in progress.
Our lessons – start purging early. It is ok to organize and then re-organize if needed. Do not overload your RV. Check your stickers and know your max weight.