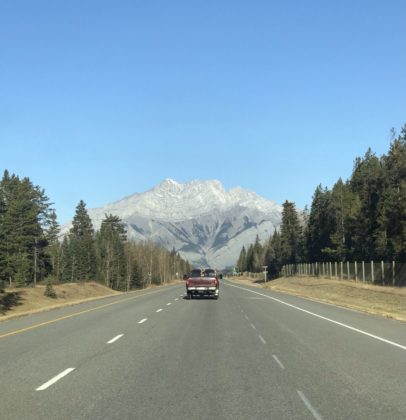 With the borders still closed, we planned to spend the winter in BC on Vancouver Island. It is the only place with mild winters. If they get snow, but it usually melts he next day.
This was exciting. Neither of us had travelled that far west. Definitely not into the mountains. We booked our winter stay at Riverbend Campground near Parksville, BC.
How I trip plan
The first thing I do is to work off my laptop. It is bigger and easier to see detail when you need it.
I open Google Maps and Google Earth and go between the two.
Our home location is entered and then our destination. Google gives and estimates the time to drive. Keep in mind, this is in a car, while towing nothing. We will add an hour to each 5 hour travel day.
For this trip, Google Maps estimates 28 hours of drive time. If we want to drive 4 hours per day. Add that extra hour. Gives you 28 hours divided by 5 hours on per day. That trip will take 6 days. If there is something we want to see along the way, we lengthen our trip or make travel days shorter.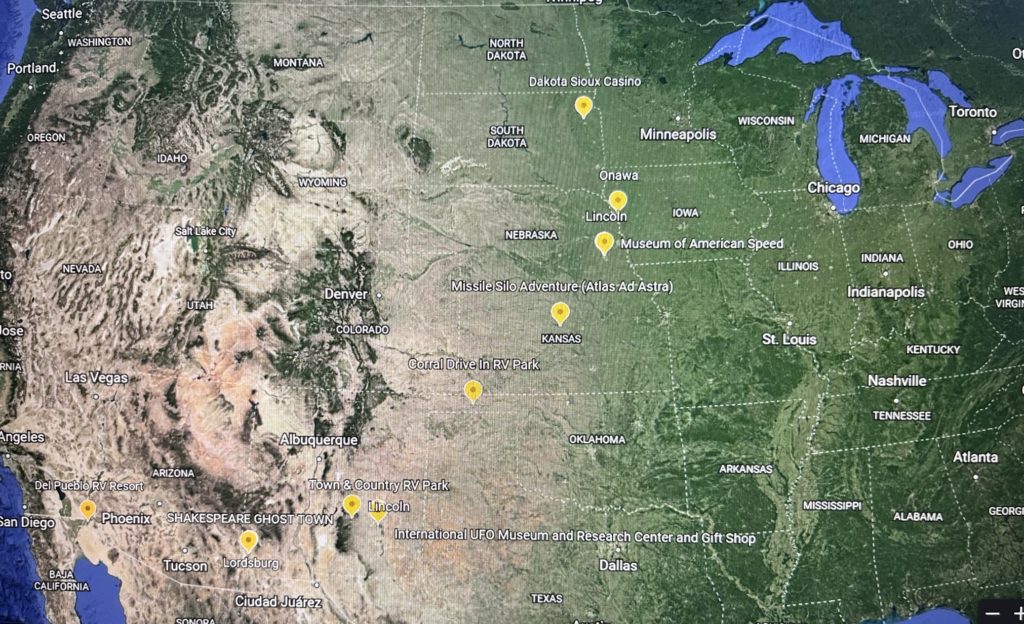 Apps and Memberships
On my phone, I open the RV Parky app. That way I can see what is close to where we want to stop for the night. We always look at current reviews on the app and look at their website for pictures. If you are adventurous, there is another app called iOverlander. That one gives boondocking type spots to park. We used this once in California. Pretty much parked in a pull out on a country farm road. Not sure if those kind of stays are for us.
It's great to create a trip project in one of the maps. In Google Earth I marked all spots, and included the name of the RV park and drive time to get there.
I also use a printed calendar with the same info as the maps, whether its serviced or not, along with the phone number of the park just in case we need to get a hold of them. This helps to have that quick visual of our whole trip. YES. I'm a planner at heart!
Last year we joined Harvest Hosts. Just in case you do not know what that is. It's businesses that have room for RVers to spend one night on their property. You get to experience their business, which is so cool. We have had awesome stays and learned so much from these hosts.
There are not many in Canada. But the USA has literally 1000's of places. There are wineries, breweries, farms – alpaca, bison, cattle, factories, museums, and the list go on.
As a member, you stay for free. Some even offer electric and water. Those are still free or the owners with charge a small fee. You support that business by making a purchase or donation. Harvest Hosts suggests a minimum of $20. Which is pretty inexpensive for a safe night stay and the experience.
Know your RV measurements
Prior to any trips with the RV, make sure you know your measurements. The measures are taken when the truck and RV are hooked up.
Measure the height at the highest spot. This includes the air conditioner. Because it would suck to rip it off when going under a bridge that is a smidge too low.
Also measure your RV length, and the total length of the RV and truck. If you are taking a ferry, you will need to know this.
We have a Truckers Atlas, that was recommended by another RVer. It's great because it gives bridge heights and elevations on passes when going through the mountains.
Google maps will also give you alerts of low bridges. So, I would zoom in on those to make sure the height is ok.
We mostly travel on the Interstate or main highways. If it is a truck route, the bridges are high enough.
Only once did I have to get out and make sure we would clear the bridge. We were coming up to an RV park in Great Falls, Montana and the bridge was not marked. It looked pretty low. I climbed the embankment and we were good!
Better safe then sorry!
Heading West
October 15 we headed west. Our first stop was Virden, MB at the Four Seasons dealership. We had warranty work to be done on our fridge.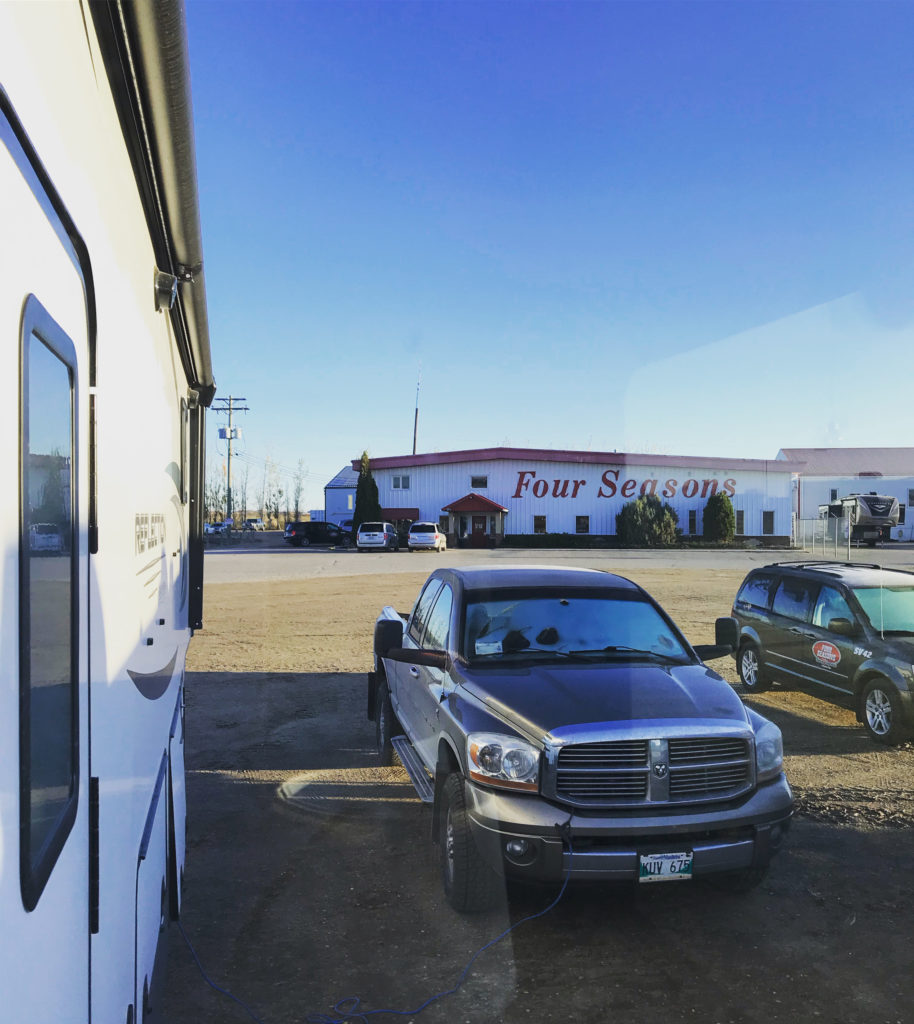 They have power at their sites to spend the night if needed. It was late once the fridge was fixed, so we spent the night.
The next morning, we got up early to continue on our travels. But ole Leroy (our RAM 3500) had other plans. Our first trip EVER had hit it's first bump.
We spent the day trying to figure out the problem. Virden dodge came to the rescue. They diagnosed the computer board needed replacing. Not a cheap repair.
They found a new computer board in Red Deer Alberta. The tech reset the computer and told us to head to Alberta and DON'T SHUT THE TRUCK OFF. Cuz it may not start again!
For a split second….we doubted whether we should continue. We said if we had an apartment in Winnipeg, we would of went back home. But we quickly smartened up.
Off we went at 3pm. We arrived in a Calgary Walmart at 5 am. Tired and hungry. We ate and got a few hours of sleep.
The next morning, our fingers were crossed that Leroy would start. Which he did! On to Cochrane AB where we had a spot booked at Bow Rivers Edge Campground.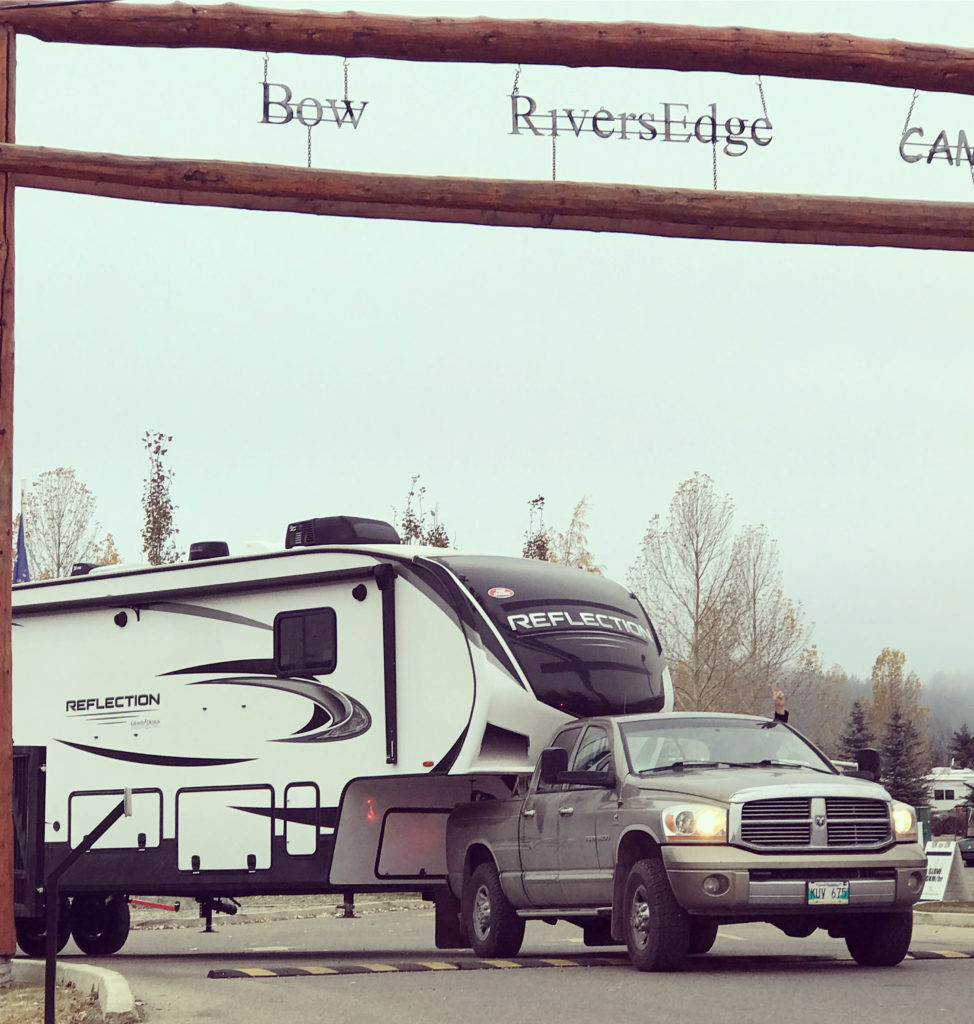 First navigational mistake. Yes, I'm the chief navigator while Rob drives. Google Maps gave us 2 options – continue down #1 TransCanada or take the bypass around Calgary. There was a 10 min difference in travel time. So I took us down #1. WRONG! This took us through busy downtown construction. So always choose the bypass to avoid big cities.
Second mistake the same day. Cuz why not? We need to learn, right? Google Maps took us through a residential area to the campground. This included 2 round abouts. One we took the wrong turn. So far, I was failing as navigator.
The next day we found another way out of the campground straight to a main road. We could not believe it!
But we made it to the park. I will review the parks we stay at in another post. But it was all good. We stayed 4 days till Leroy was fix and ready to head west again.
Would totally recommend this drive. The scenery is breathtaking. The shear size of the mountains is amazing.
Next stop – Salmon Arm, BC. There was a detour south to Radium and then back north to #1. Which was very disappointing because I wanted to see beautiful Lake Louise.
Let's just say, our brakes were smoking when we stopped for fuel in Radium. That night we spent at a Harvest Host in Salmon Arm.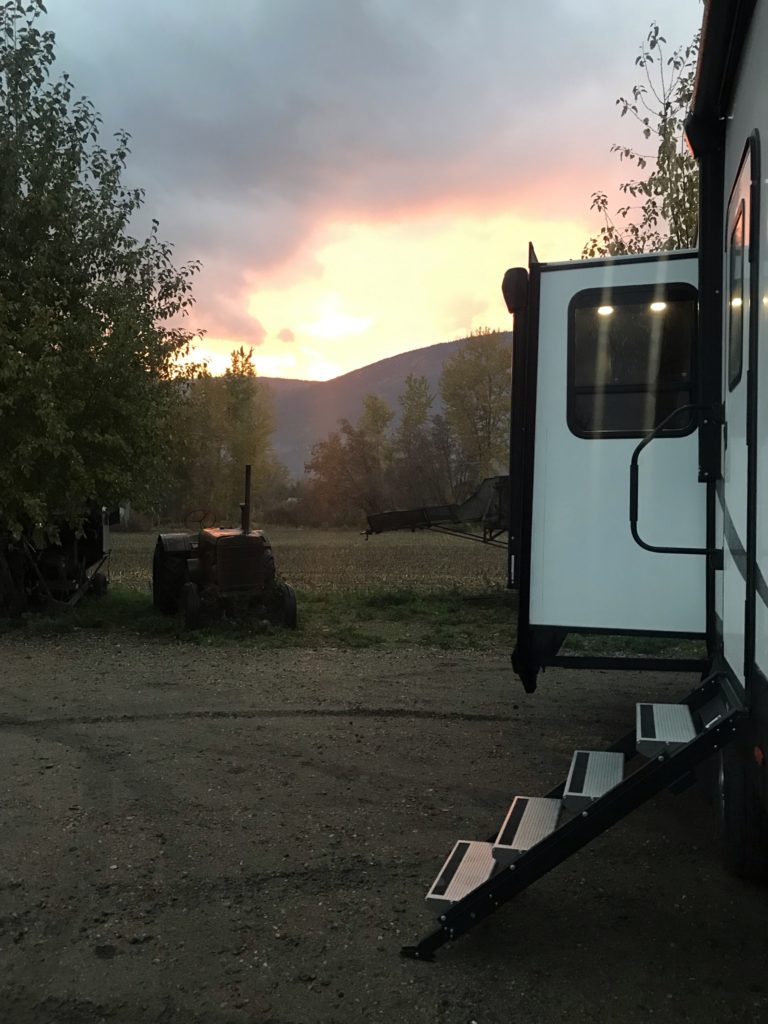 Fuel stop tips…use Google Maps. Zoom in on the satellite view. Check the position of the pumps, if there is diesel, and the turns needed to get in and out.
Navigation mistake number 3. The TransCanada keeps right. The Coquihalla Highway keeps left. We missed the exit and took the Coquihalla to Hope BC. I think that stretch of our travels will be its own post!
Hope, BC – we stayed at Sunshine Valley RV Resort. (Review that later). We did see the site of the 1965 mudslide. Sadly, two weeks later there was another in this area along with massive flooding.
The next leg was to the Tsawwassen port to take the ferry to Nanaimo. It was a 2 hour drive and we added 1 hour just in case.
This was our first ferry ride. We were undecided and chose to take Lucy to the pet area with us. In hindsight, we should of left her in the truck as it was too much stress for her. The ride was just over 2 hours, so she would have been less stressed in our truck.
From Nanaimo we headed to Riverbend Campground. It is 5 miles south of Parksville, BC.
We settled in right away. People were out and about. Met our neighbours. They loved playing games like us. We were so hopeful.
The weather was so nice. Everything was still green, and it was November. We visited local areas. Walked trails, seen so many waterfalls, visited quaint towns, went to the beaches, walked the forests.
Here are a few places we would recommend seeing if you are ever on Vancouver Island: Nanaimo, Courtney, Comox, Victoria, Chemainus, Parksville, Coombs (they really do have Goats on the Roof!), Englishman Falls, Living Forest Campground, Rathtrevor Beach, Port Alberni and Cathedral Grove Forest.
Sadly, the weather changed. Storm after storm. Then lots of snow. We had enough.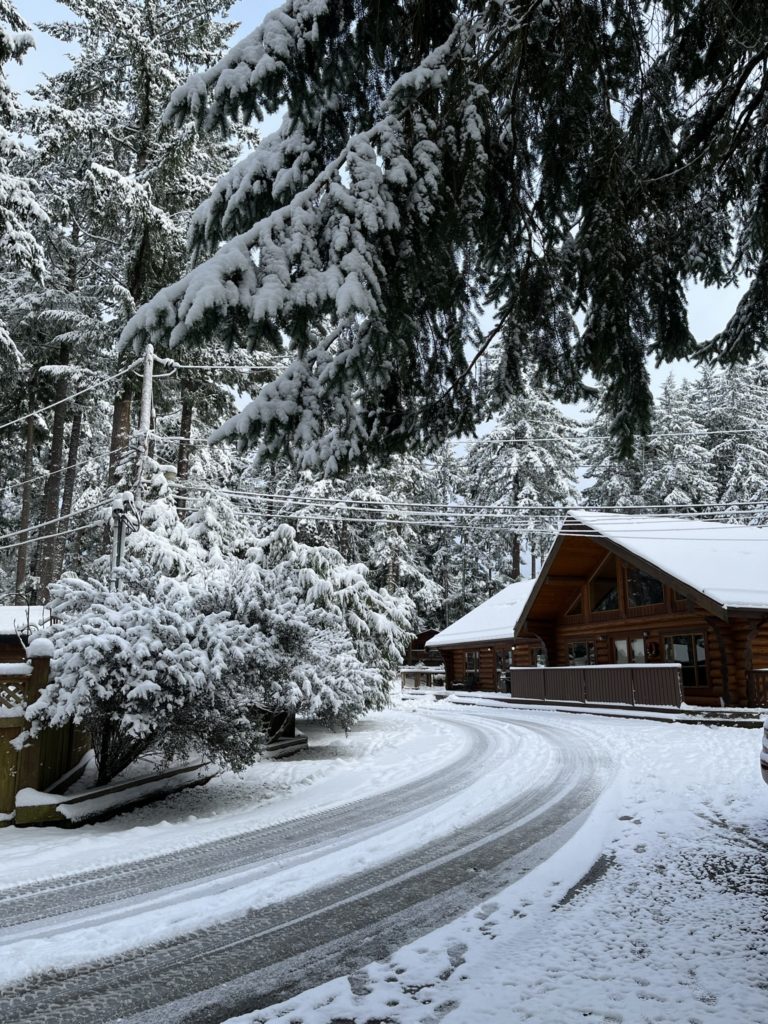 Our Lessons – zoom in on Google maps to see all the detail you need, have rain gear for BC, go out regardless of the weather, be patient as plans can change quickly. Google maps can be wrong. Have a back up map.