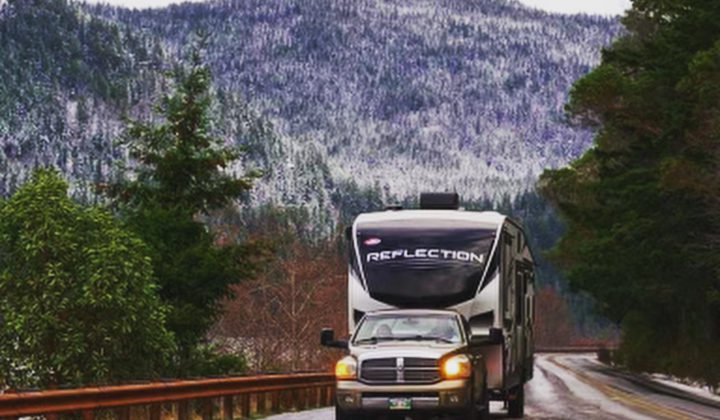 Rob started researching two and half years before we purchased our RV. He had it narrowed down between Montana and Grand Design.
The biggest factors for us were quality, price range, floor plan and reviews (customer service).
Attend RV Shows
In 2019 we went to our first RV show. We left disappointed. Travel trailers and pop-ups were the most popular. We looked at three fifth wheels. None of them were either make that we were considering.
The research continued and he found a floor plan we both liked in a Grand Design Solitude model. It had a front living room. Which meant, it was were a the bedroom would be in the front. A separate room. We loved this idea. Much like in a house.
In March of 2020 we went to another RV show. This time it was put on by a brand new Four Seasons Sales Winnipeg location which sells Grand Design. It was so amazing. Full of Grand Design trailers.
The floor plan we wanted was there! The living room was big. Amazing that this was an RV.
We continued to tour more units. The last one we went in was the Reflection 367BHS. As soon as I walked in, I knew THIS WAS THE ONE!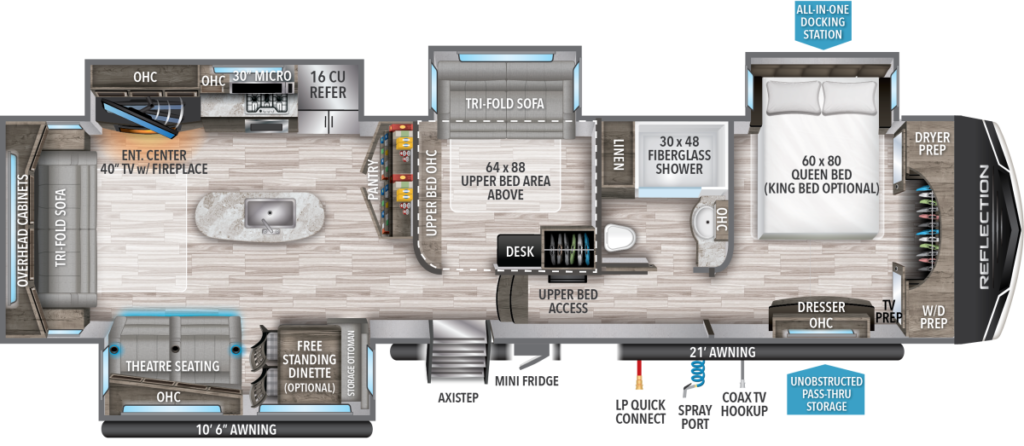 Our RV must haves
Over the next few weeks, we talked about the two floor plans. Here were our must haves:
Room for our 3 kids (or anyone) to visit
Kitchen island
King size bed
Washer/Dryer roughed in
A pantry
Both floor plans had all this. Except, the Solitude had all the spare beds in the living room. One of our kids, if they all came, would have to sleep on a recliner.
On the other hand, the Reflection had a SPARE room. Seriously! A separate room with a queen sofa bed, small closet, and desk. Plus, it has a loft with a queen size bed. The living room has another queen sofa bed.
It seemed like a no brainer. A Reflection model is still Grand Design. Just more affordable.
A bonus we never even considered……when we are travelling, and all the slides are in (there are four slides) we can still get to the bathroom and our bedroom. Which it something you may not even consider when looking at all the different RV's.
Buying New or Used
We had never planned to buy a brand new RV. We wanted something two to three years old. There was NOTHING in Manitoba. Most were in Alberta or Ontario. COVID was in full swing so we could not travel anywhere. If we found one, it would have to be in Manitoba otherwise we were going to have to buy new.
Why we bought a New RV
The odds of us finding the exact model we wanted in Manitoba was pretty slim. So I contacted Four Seasons Sales.
We bought our RV online because stores were closed due to COVID.
I dealt with the sales person through email. We upgraded to double pane windows, a second air conditioner, king sized bed and two free standing kitchen chairs vs two bench seats.
The order went in November 2020 and our brand new fifth wheel was delivered in April 2021. She has since been named Daisy.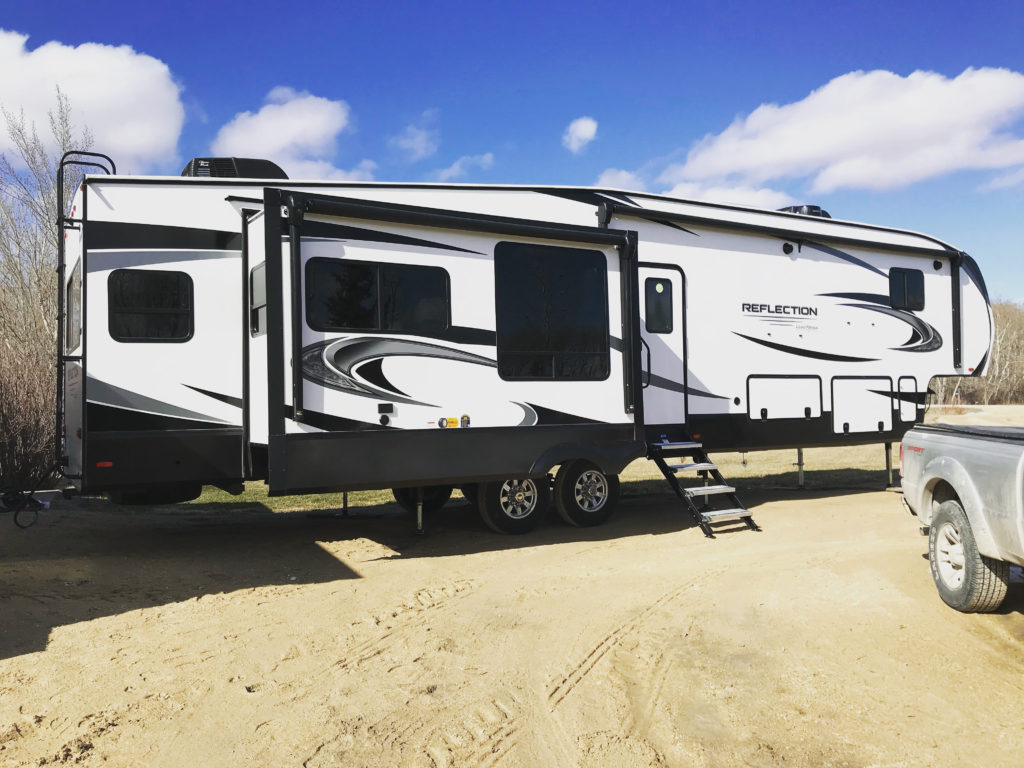 Prior to delivery, Four Season Sales did a walk through with us. This took two hours. They went through every possible thing. This is a good time to do your own visual and make sure there is no damage and everything is working.
It has been just over a year, and we are very happy with our RV. It is not 100% perfect. I do not think any RV would be. There are things we wish were different. There are things we have added to make it our own. Just like home.
Every couple and family are different in there needs. But for us, this works!
Our lessons – Look at a lot of RV's. Consider how it would be living in a particular floor plan. Read brand and dealership reviews. Know your must haves.